Soundtrack: KROUAZIERA
s://open.spotify.com/track/4wcT8wyGLkdBPh8dsoxCMT?si=cw6dxOgjRAm3QcRR4qWwCw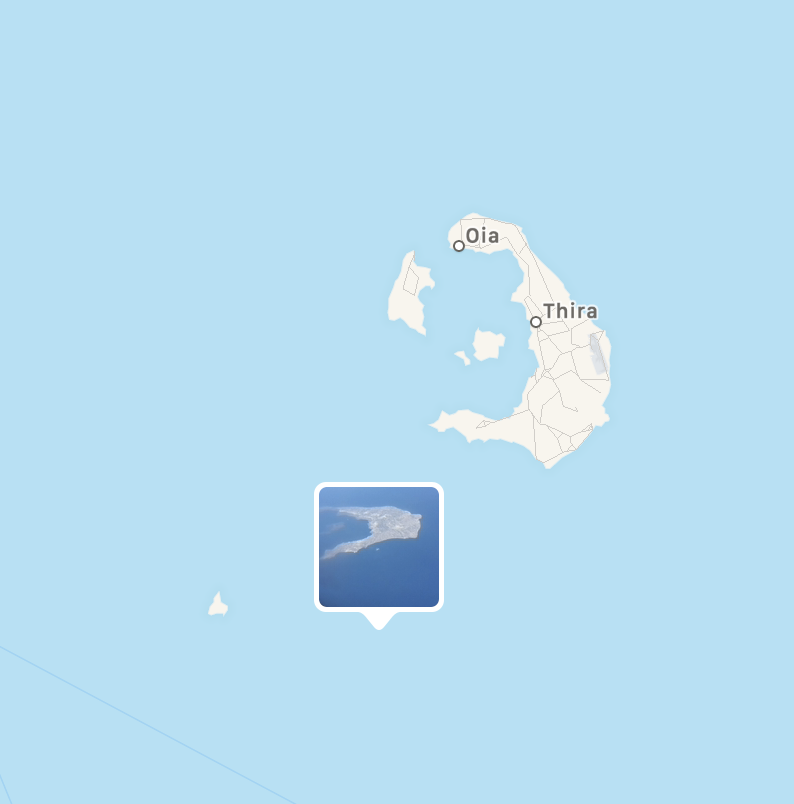 Greek Coffee
When I first came to Greece, my memories, probably like yours, are of thick dark coffee in very small white china cups. There was a mouthful, maybe two or three of slightly granular and strong coffee. You might have drunk it sweet, like the Greeks, or 'metrios' (is that even a word?) which seemed to be understood as 'just a little sugar to take the bitter edge of the coffee'. This coffee was made in small long handled saucepan, we have a modern version.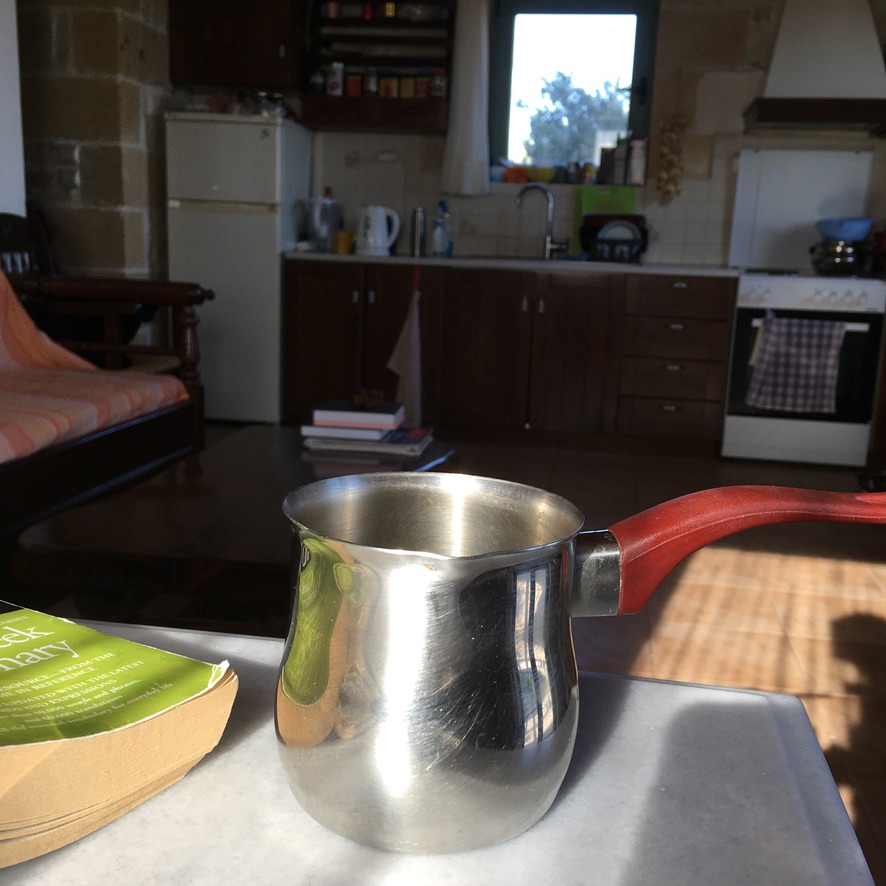 The coffee was made over a flame. Then there was the frappe version. Here's a recipe I found, with a pic (not mine).Basically a cold, frothy Nescafe that, like ouzo, just doesn't work more than 10K from a Greek beach.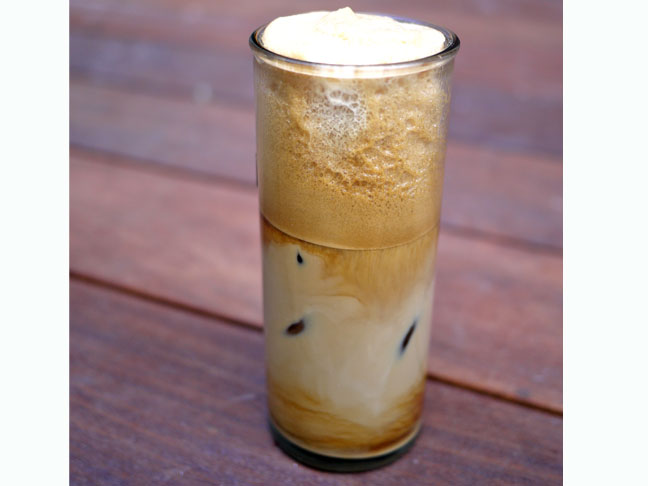 Unfortunately, both types of coffee have lost out to the ubiquitous cappucino or latte in the one-time throwaway cup. Everytime I drive in to Kissamos, there is a cluster of traffic hazards at the bottom of the hill, around the small coffe shop (Κατι Αλλο = Anything Else?). There are flatbed trucks at peculiart angles, vehicles squeezing past or waiting to join the National Road, delivery mopeds with unfeasable loads… Even during lockdown the takeaway coffee stops have been thriving. Deliveries go to homes, shops, offices, and of course, olive groves.
Liking and Loving the Greeks
I know that some of you will think that to attribute national characteristics to the very wide palette of human nature is futile. But I think that they can be useful in the same way that horoscopes are useful, to help us talk, think and probably make judgements about each other. In modern Greek there doesn't really seem to be a word for 'like' – as in I like ice cream, or I like most of my friends. The way to express this is effectively 'ice cream pleases me'. But there is also αγαπώ. Literally – I love. And it can be used in contexts that I am still exploring. Μου αρέσι is probably safest. (Put these into Google translate to hear them and see the anglicised versions). When it comes to shopping, you don't tell the person behind the counter that you would like some feta, you tell them that you would politely want some cheese. So I don't think you can like the Greeks, I think you have to love them!
What Happened to March?
What has been keeping me away from the blog for a while? Well, we are in the process of buying a plot with plans to build. As you might imagine, it is not a frictionless process, like popping into the corner shop for bottle of Diet Coke and a pack of orange Rizlas.
We are at the same time have been getting our Bristol house ready for sale, aware that every thousand will bring our future plans a bit nearer. So I made a website, to boost the estate agent's efforts, and spent a lot of time phoning, WhatsApping, bargaining, pleading, cajoling a variety of friends, friends of friends, tradespeople until at last the house was de-cluttered, excess stuff in storage, windows cleaned, garden smartened up, photographs taken (I haven't seen these yet, but they will be on the estate agent's website next week.). At the same time Al has been uploading the next slice of earthMusic albums. Most of them up there now, with more great artwork from Bristol printmaker Anna Marrow. Here's a taste: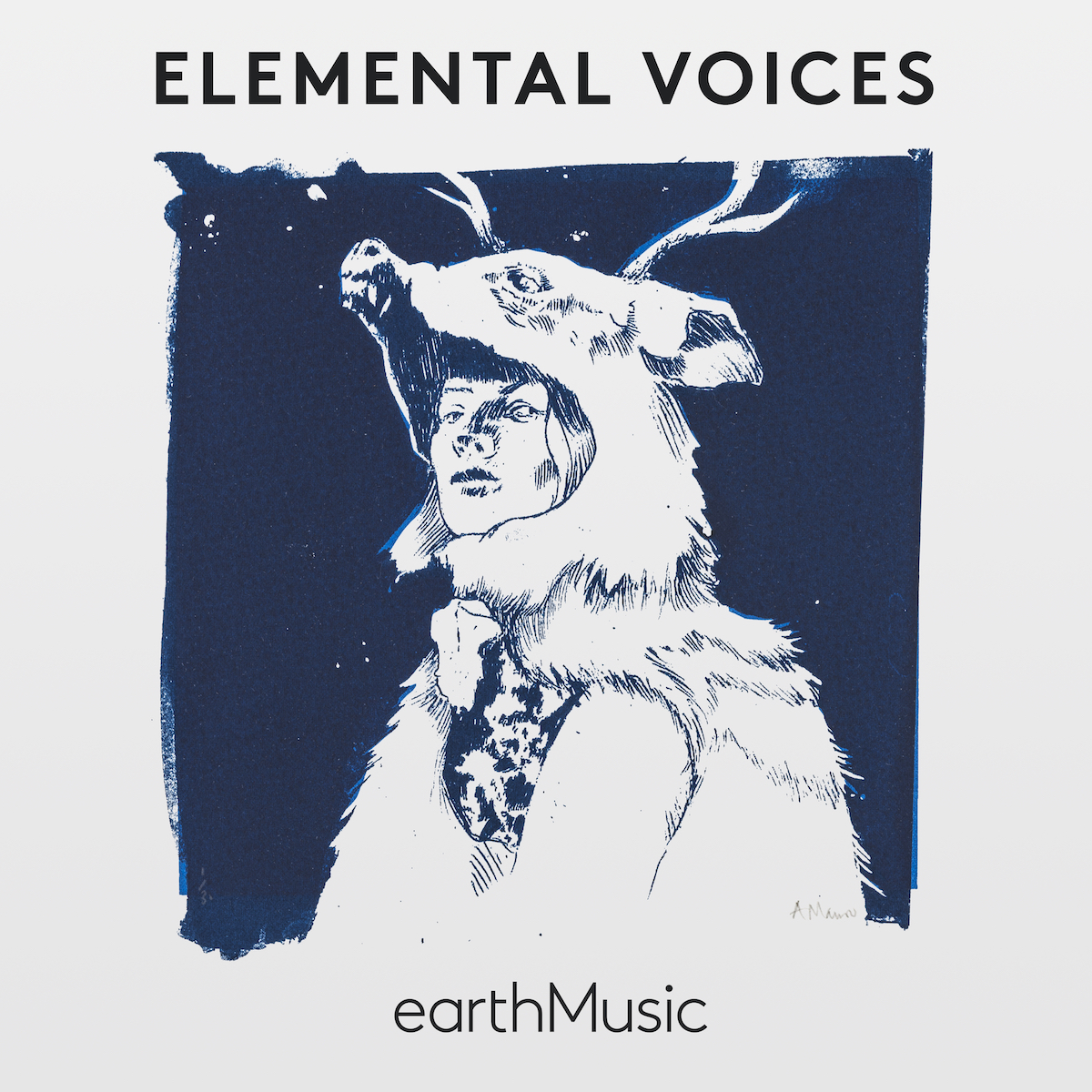 The image links to the whole library so far, if you'd like to listen.
Lockdown
We have had a lockdown since December, I think, feels like forever since our routine doesn't change much in any case. Some easing up at the moment – we can go a little further afield at weekends, supposedly for exercise, and 'non-essential' shops opening up. Makes you wonder why we did all that shopping, bought all that stuff, that we apparently didn't need. I think I haver a lifetimes supply of fountain pens, ink, drawing and painting materials, waiting for the day…. Also possible T shirts.
Vaccination
I have had first Pfizer with 48 hours of feeling tired, not sleeping very well and my guts feeling as though I have eaten too much vindaloo and drunk too much Guiness. Better now. Al has first one on Wednesday. Greek website efficient and local heath centre running on time, friendly and coping well. Days later – Al now vaxed with forst dose Really pleasant young staff, no queue to speak of. Situated between Roman ruins, suburban style housing and a few empty spaces with wildflowers and the odd shippoing container.
Spring – has been in evidence since about October! Some warm days, often cool and windy but rarely really cold. Heating with an enclosed fireplace and not much else. Light duvet and a cotton blanket have been enough in a mostly unheated bedroom. You get the idea. Many flowers – well, this is Crete.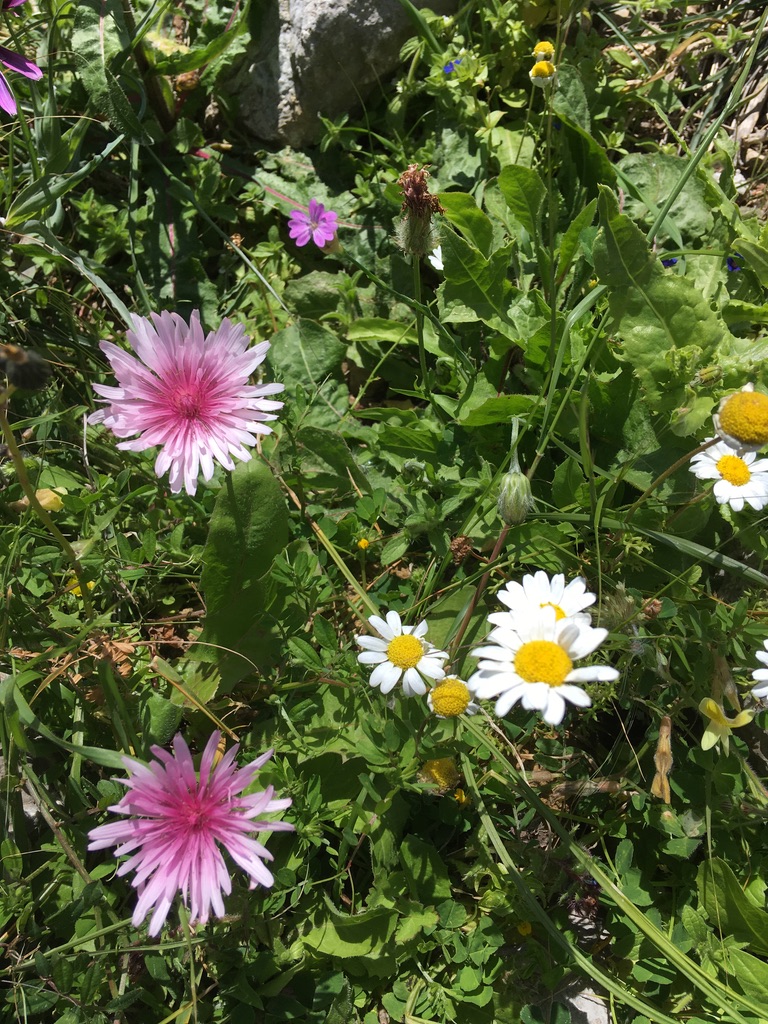 First swim since February, a mix of strictly observed lockdown and quite a lot of cool and windy days. A real sense of time accelerating. It's as though 2020 passed in a kind of pleasant dream, now passing through the metaphorical Airport into the land of 'real life'. More about that soon.
Our House
Today's Blog is a bit different because I am trying to keep to just one subject.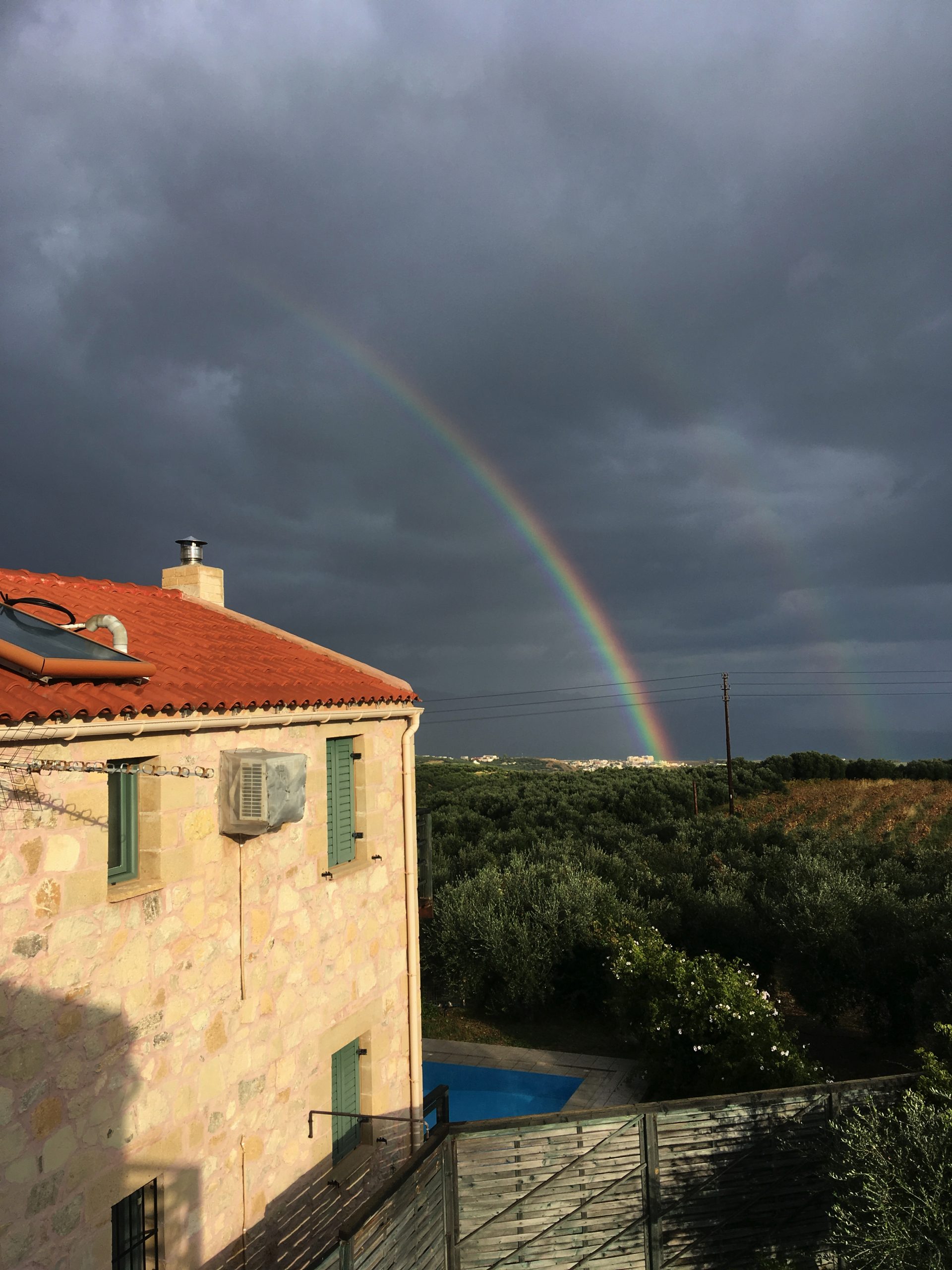 This is actually the house next door, but the two houses are like peas in a pod – not identical but recognisably siblings, actually sisters, Aretousa and Pasiphae.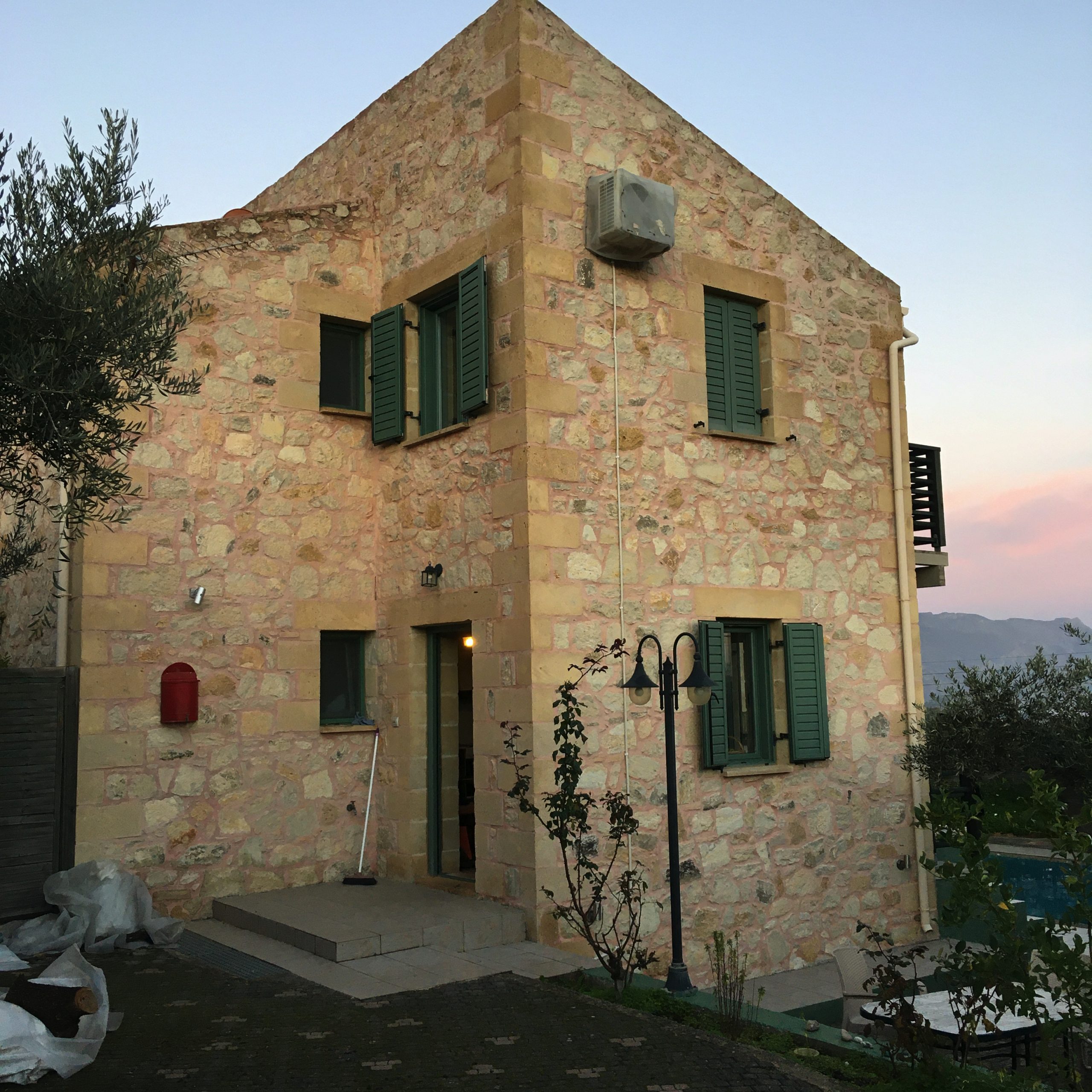 This is Pasiphae, and it is where we have been living since March 2020. Today is actually a kind of anniversary. We came out for 2 months on this day (26 February) 2018. We first found it through AirBnb and it was really a shot in the dark. When I looked at the location on the !:140,000 Michelin map of Crete, I thought it would be in a kind of suburban area of Kissamos. So it was a real surprise that it was up a winding road, with a view over the bay, even the ferry port in the distance. I can still remember the drive, maybe in the dusk, the small hire car steadily climbing, following the directions and wondering where on earth we were going and if it could possibly be right. But it was. Tina was there to welcome us and I an almost certain that there was a bottle of wine, bread and a warm dish of stuffed peppers on the table. One of the best meals we ever have.
At the time we were looking for a house to rent for Spring 2019, and after viewing several others we decided to go for Pasiphae. At the time, we had no idea what a good decision this was.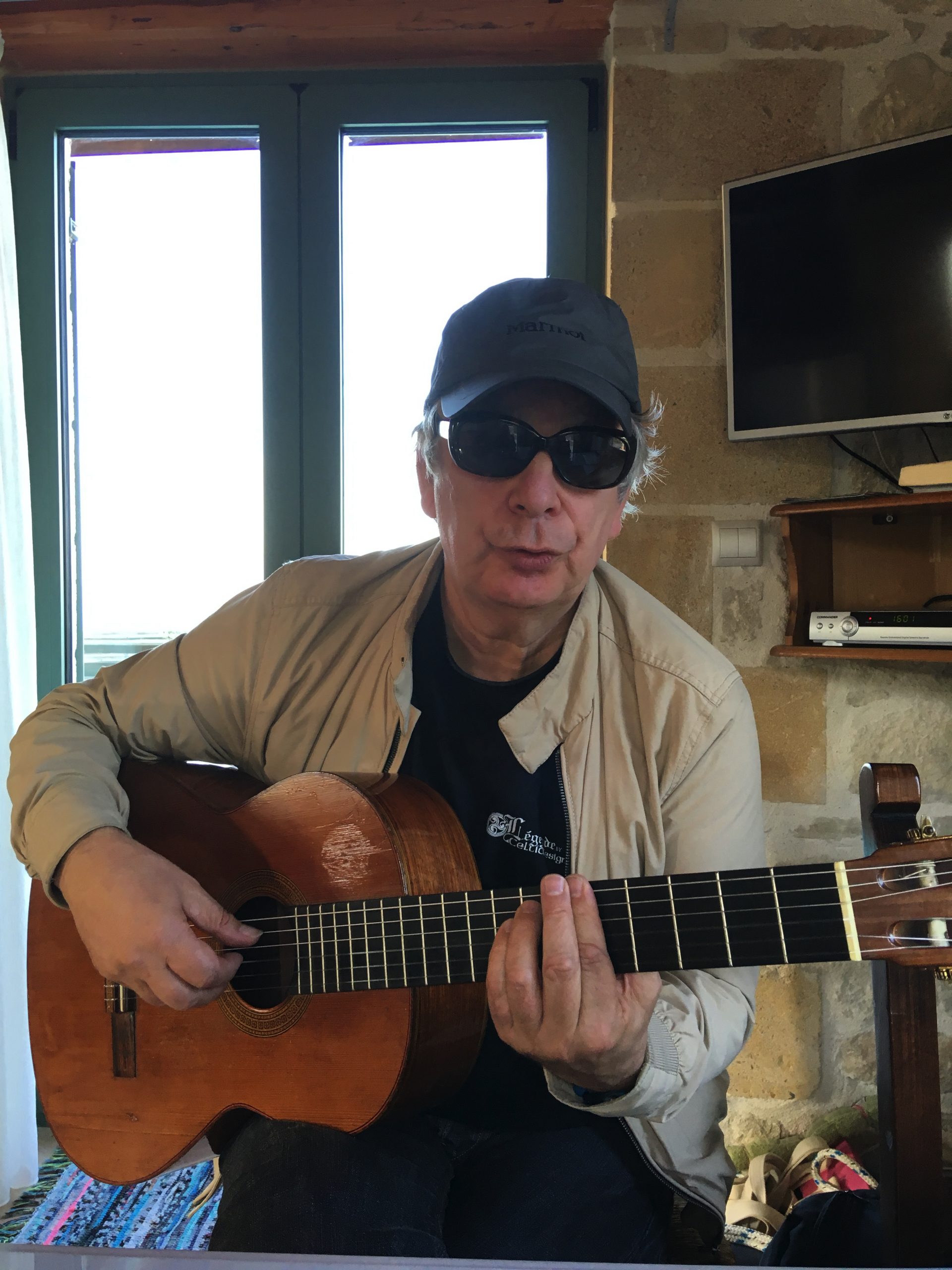 The house is built of stone, so most of the interior walls are unfinished stone. We have come to really appreciate the soft sound that this gives in the rooms. Acoustically, the house feels rather like a single space, and that has made us exercise a lot of consideration for each other in terms of the noise we make – whether it's Zoom yoga, washing up or Al beating out time in his makeshift bedroom studio. Having said that, the house has proved itself capable of handling guests – we have had people to stay overnight, easy with a comfortable sofa bed downstairs and bathrooms on both floors.
Why am I telling you all this? Because I am hoping that this year or next, some of you will come over to see us here in Western Crete, and until we have our own place where you can stay, these houses are a perfect solution. At the moment we don't know exactly where we will be when, or when where, but we know that you will love staying here as much as we do, so you might want to make plans to come anyway!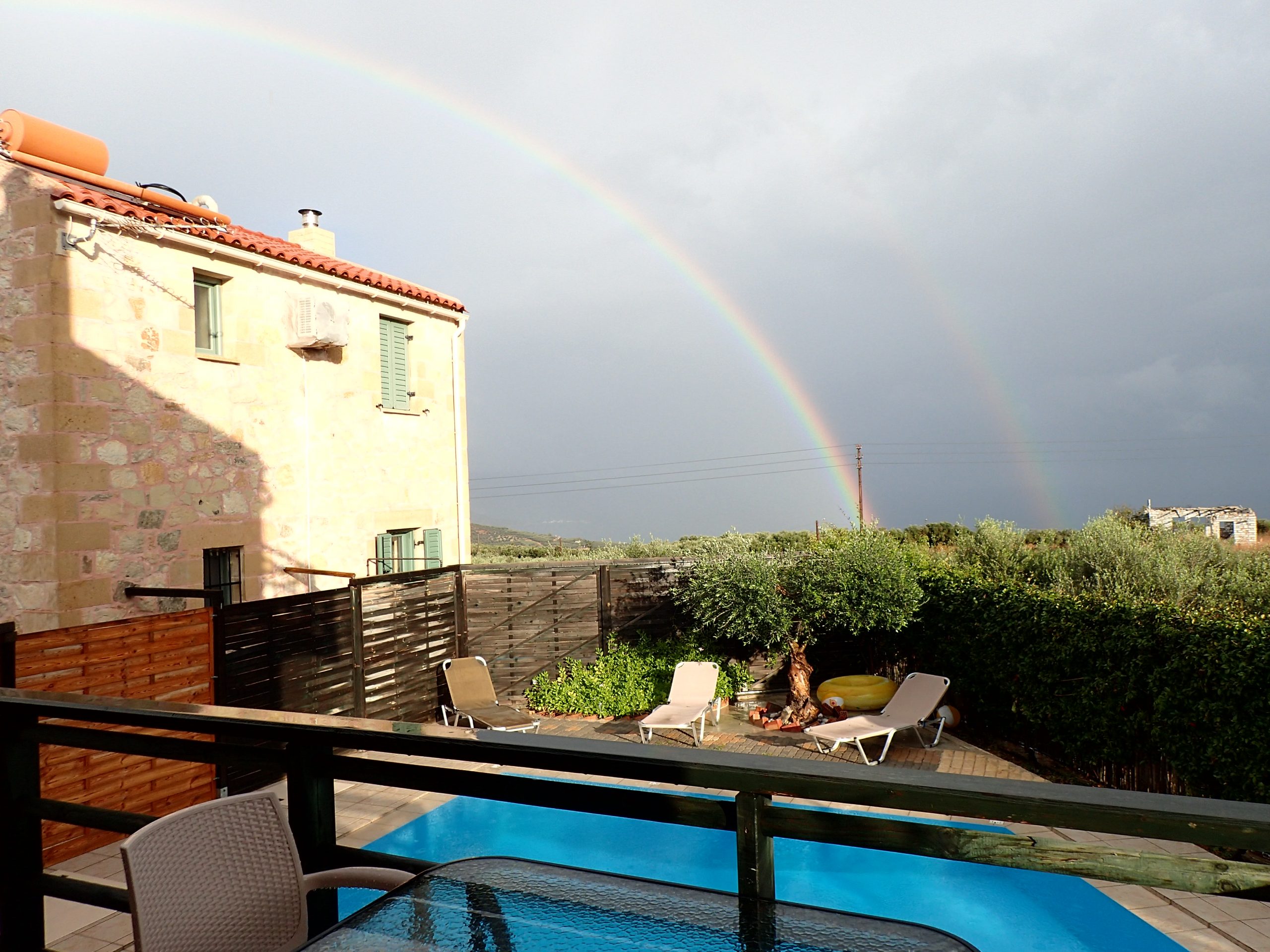 The website tells you everything you need to know – the houses are comfortable, have pools, 2 bathrooms each, one with a bath and one with a shower and a washing machine. Solar water heating means there is almost always plenty of hot water,(bearing in mind that economical use of water is good in such a water hungry region). There's an outdoor shower, fabulous in the summer. Swimming pool is small by Oympic standards but good for a splash about when it's hot. Just floating about on an airbed takes a lot of beating. Still working out how to read whilst doing this.
The houses are around 15 minutes from our favourite local beach at Viglia.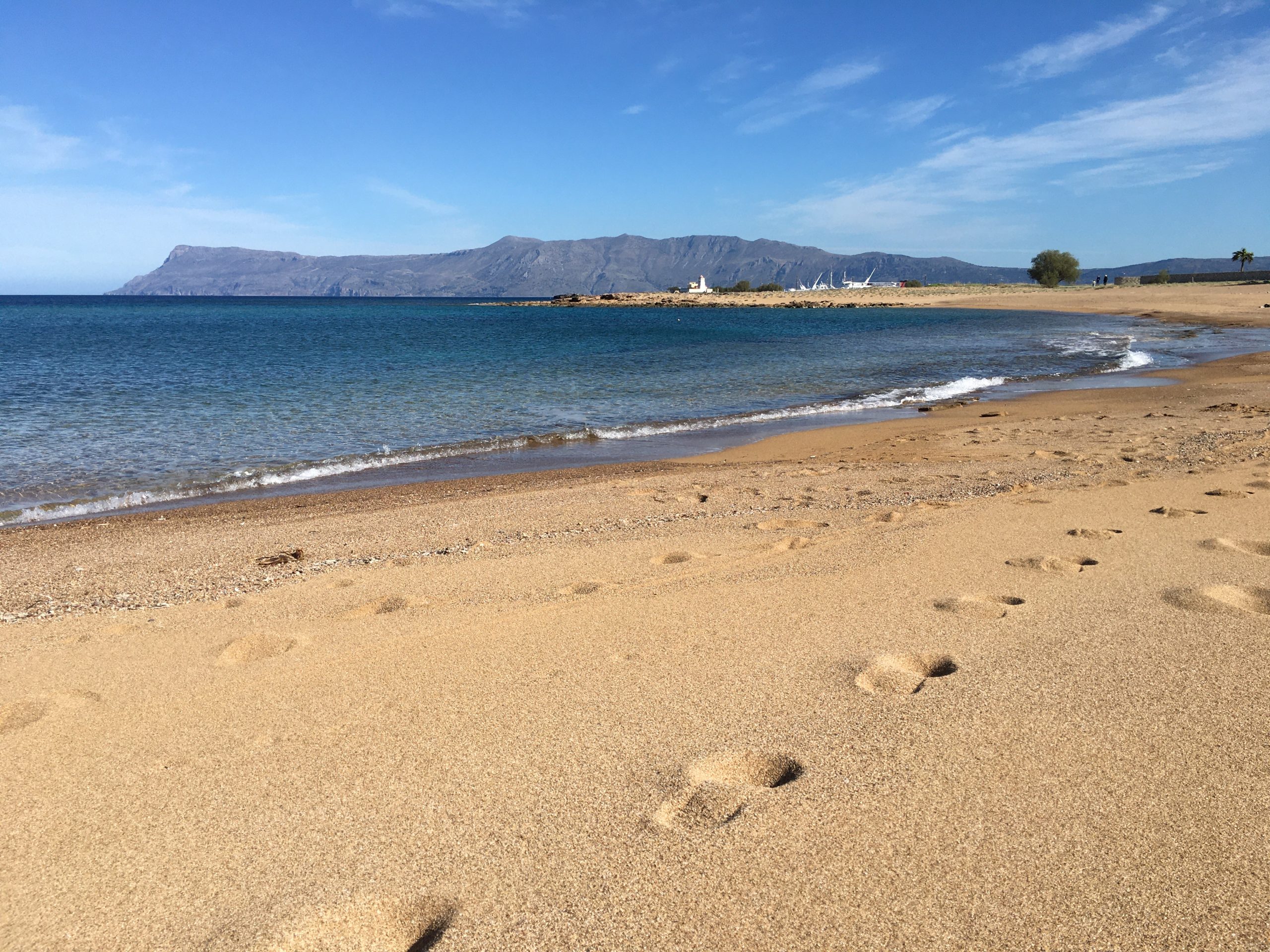 And there are many more to choose from. Many of you will have read the blog, on and off, and will know that we have many walks from the house in nearby olive groves. Further afield there are the Cretan gorges, famous and not-so-famous. There's a Minoan / Roman settlement (Polyrinia) on a hill that we can see from the bedroom window. Fantastic spring flowers.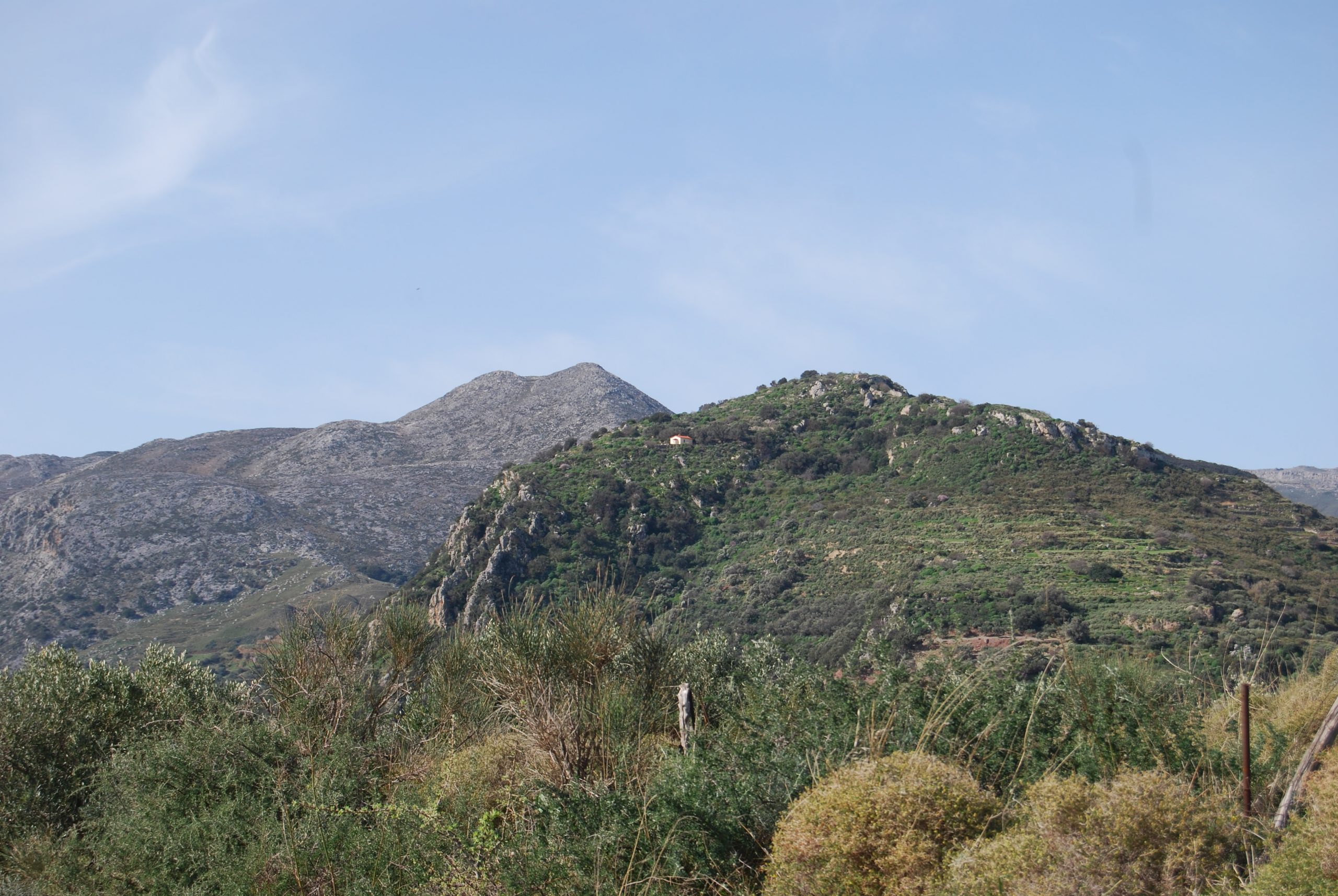 I haven't talked about the food – there are plenty of restaurants in the area, mainly simple beach tavernas, but some 'hidden gems' as well. There is a plan afoot to provide a new, exciting dining experience almost right next-door. But I am not going to give that game away.
We have made friends here, with our hosts, with our neighbours. In spite of the lock-down we have managed some minimal outdoor socialising, a birthday party, and a home delivered Christmas dinner. Here are our hosts and friends, Tine and Eleni.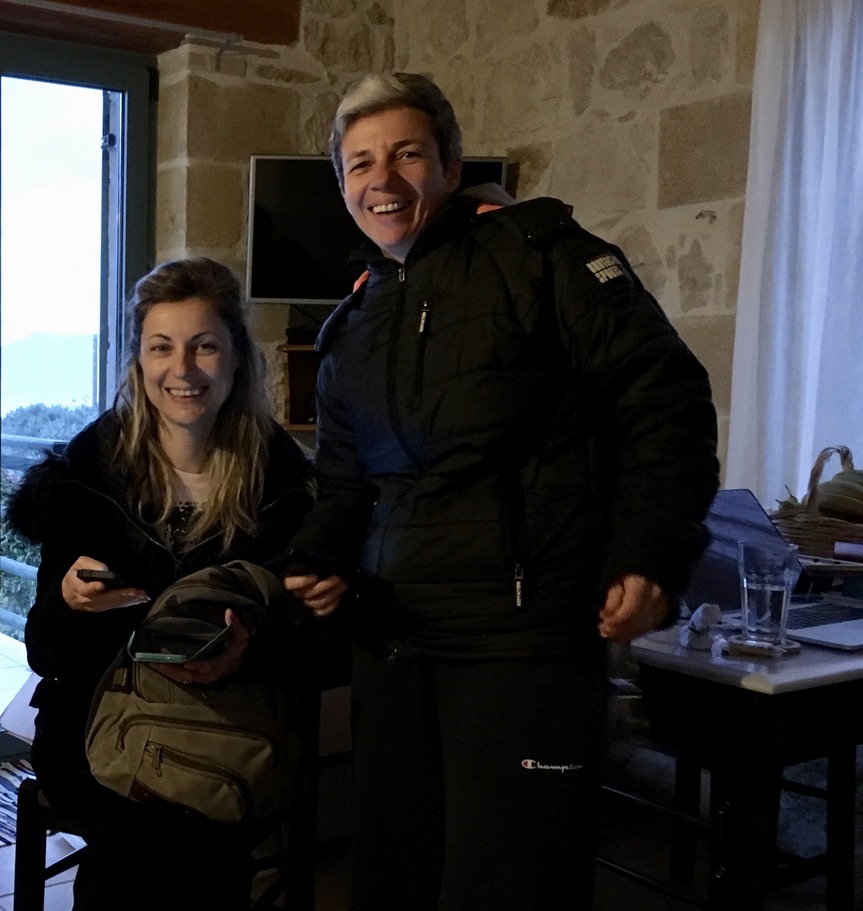 Smells: so important! When we walked into the house it smelled right. No heavily scented cleaners or 'air fresheners' just a comfortable clean smell, with maybe a little polish. Outside there is a scented hedge, jasmine, and a lemon tree, all of which contribute to a heady summer mix. And just yesterday, the anniversary of our arrival in 2018, the air smelled like spring in some way I can't define. A mix of daisies and new foliage maybe. That and the sun angle seem to raise a felt memory of our first taste of Cretan Spring.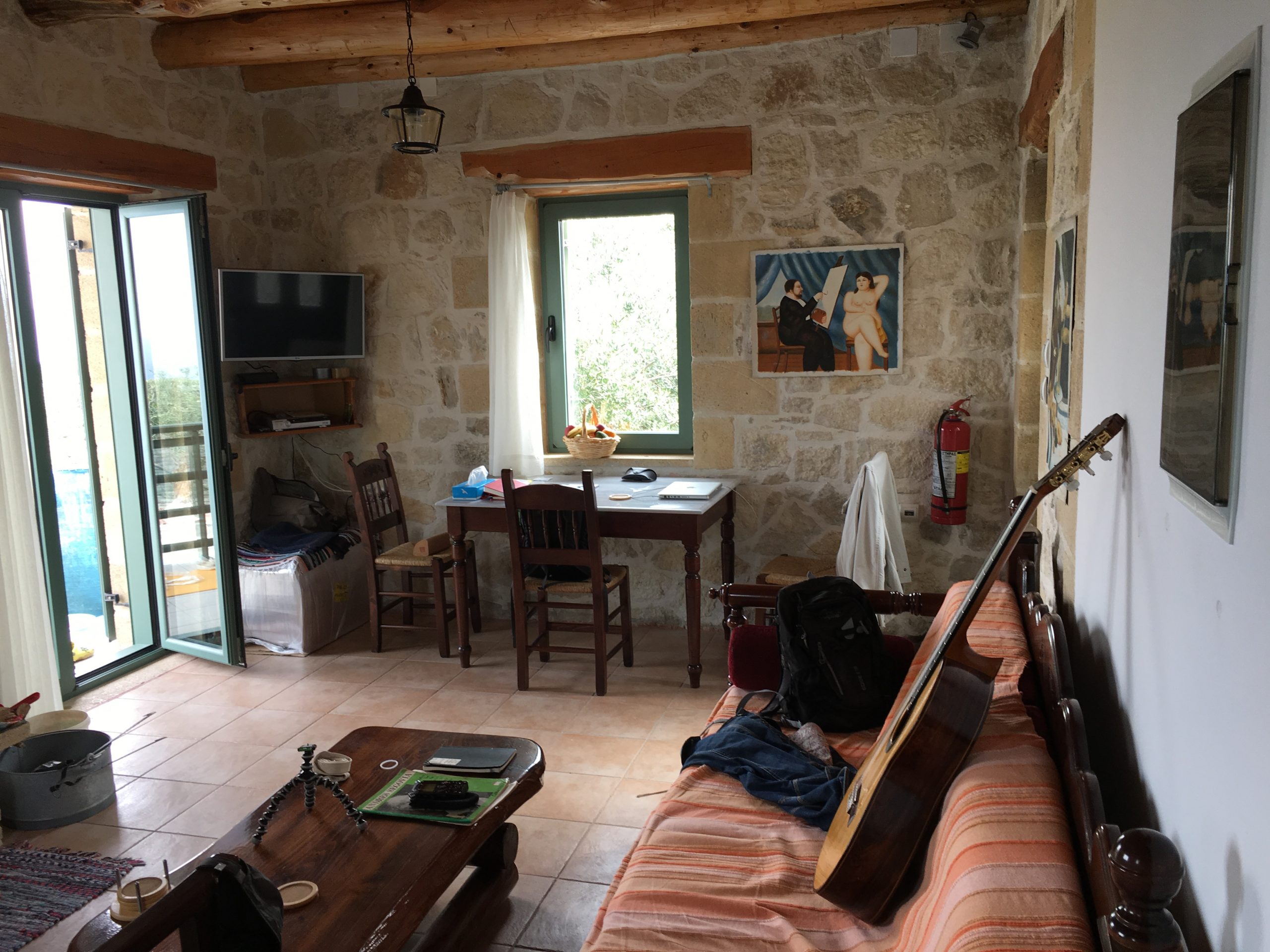 What else to say? We will be here at least until the end of May, after which we probaby need to attend to a few things back in Bristol! This has been a strange year for everyone, but it's hard to think of a better place to be 'locked in'. If you are interested in coming out to visit, get in touch with me , and I can pass you on to our friend Tina, or there's a booking form on the website.
So – we hope to see you in Crete, sooner or later!
Γεαι σας!
Spring, Summer, Autumn… and Spring again.
Τι καιρό; What's the weather like?
According to my Greek textbook, there is a Greek saying:
Από Αύγουστο χειμώνα
Κι από Μάρτη καλοκαίρι
Loosely translated as :
Winter begins in August; Summer begins in March.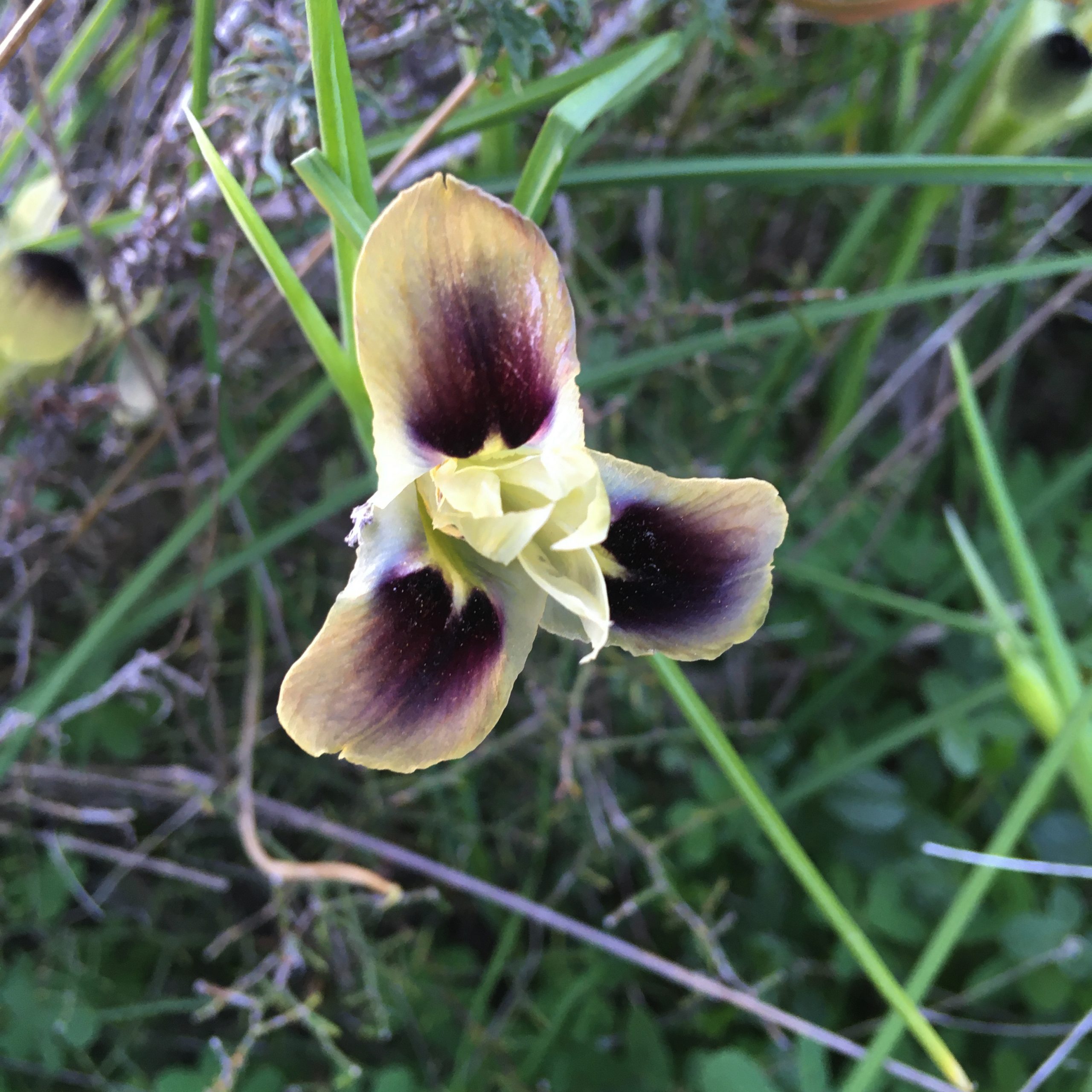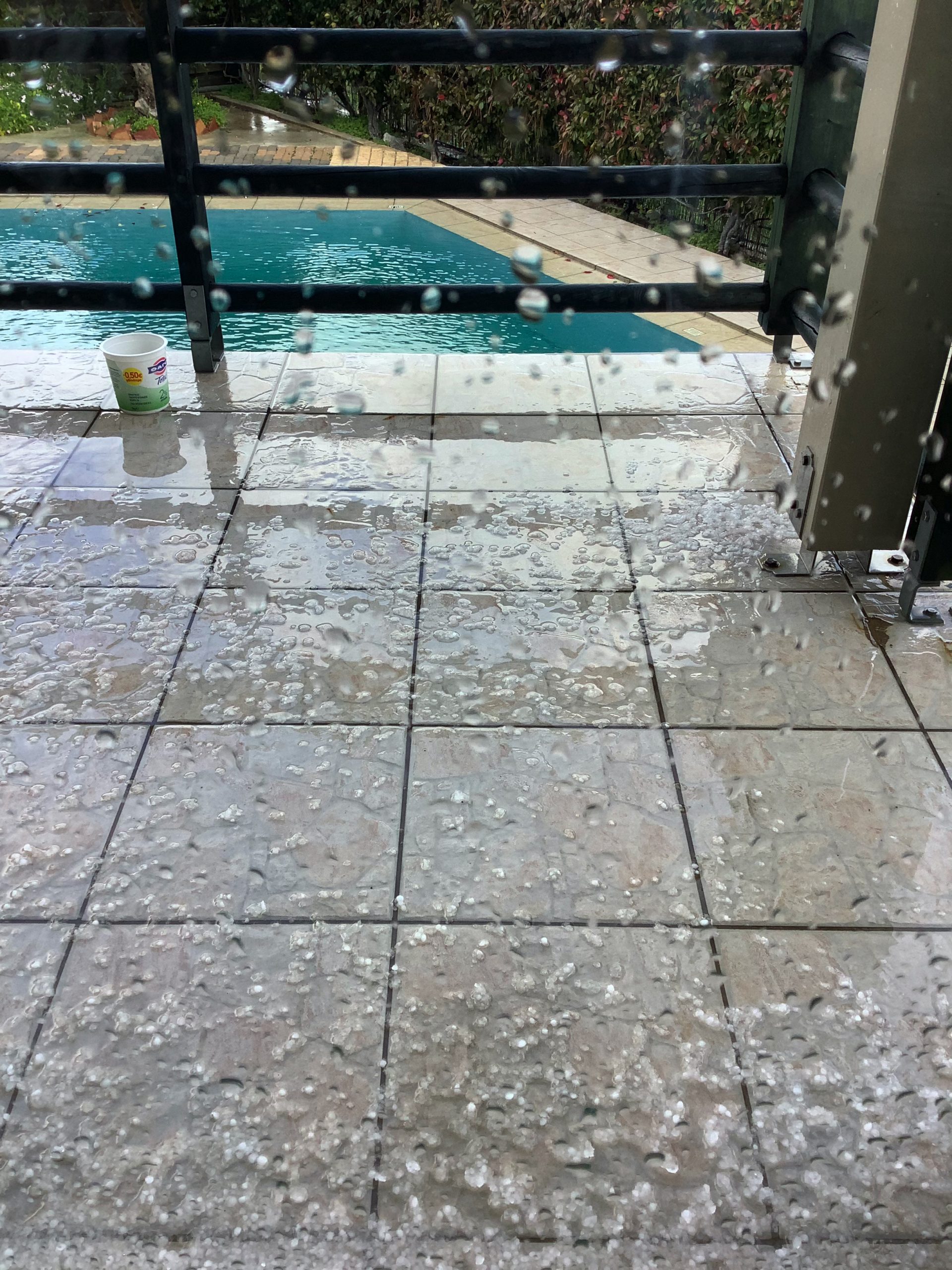 Maybe because of climate change, or maybe because of our attachment to the notion of 4 seasons, it hasn't quite been like that. When we arrived in march last year, Spring was definitely springing up everywhere, with many flowers already out, and just after we got here a day that caused our neighbour to ask us why we were wearing winter clothes! As it turned out, we needed those clothes on many days right through into May, and we were certainly lighting the fire in the evening until the wood ran out, maybe early May. But in between there were days when we went to the beach and swam.
I think in July we began to make regular use of the pool for cool-down dips, and I sometimes used the AC for yoga practice.
Of course it was an odd summer, with a background of mask wearing in the supermarket, and a voluntary limit on trips, neither of us wishing to stay in a hotel. Some of you will remember our 'holiday' in Papadiana in August when our house hosted other guests. The Airbnb business was clearly a difficult season to manage between restriction, prudence and cancellation.
Autumn was defined by some crisp mornings, beginning maybe at the end of October, when we returned to the log fire. There have been a few days when we have lit the fire before 5pm, and on a few mornings I have used the air heat exchanger to warm the living room-kitchen for yoga practice.
In November, I think, the bare earth of the olive groves turned bright green, and by November, they were carpeted with small yellow flowers with lush foliage, high enough to make my ankles and almost knees wet after rain. In January the anemones began, sometimes just one or two and sometimes a whole bank, often mixed in with daisies. This year, after a heavy crop, the olive trees have been mercilessly pruned, with whole branches lopped off, sometimes revealing views that we didn't know were there. It is a viscous process, with the sound of chain saws and pale open wounds mark the absence of amputated limbs. The product of this carnage is next year's firewood, but the smaller leafy branches are quickly dried Ian drifts next to tracks, before being burnt in very neat bonfires that leave near-perfect circles of ash. Sometimes there are left over charred bits, good for kindling as the heat of the fire has dried them out.
So you see, our year has only had 3 seasons, the bite of winter has passed us by. Of course we have had stormy days when wind and rain have kept us indoors, but not so many of them, and generally, people say it has been a dry year. The snow on the White Mountains being Chania is less than it was when we arrived last year. The weather has 3 weeks to make up the difference and at the moment it looks unlikely.
The last few weeks have also brought more bird activity. There are many small birds, blackbirds, doves around, as well as the usual hooded crows and hawks of various sorts.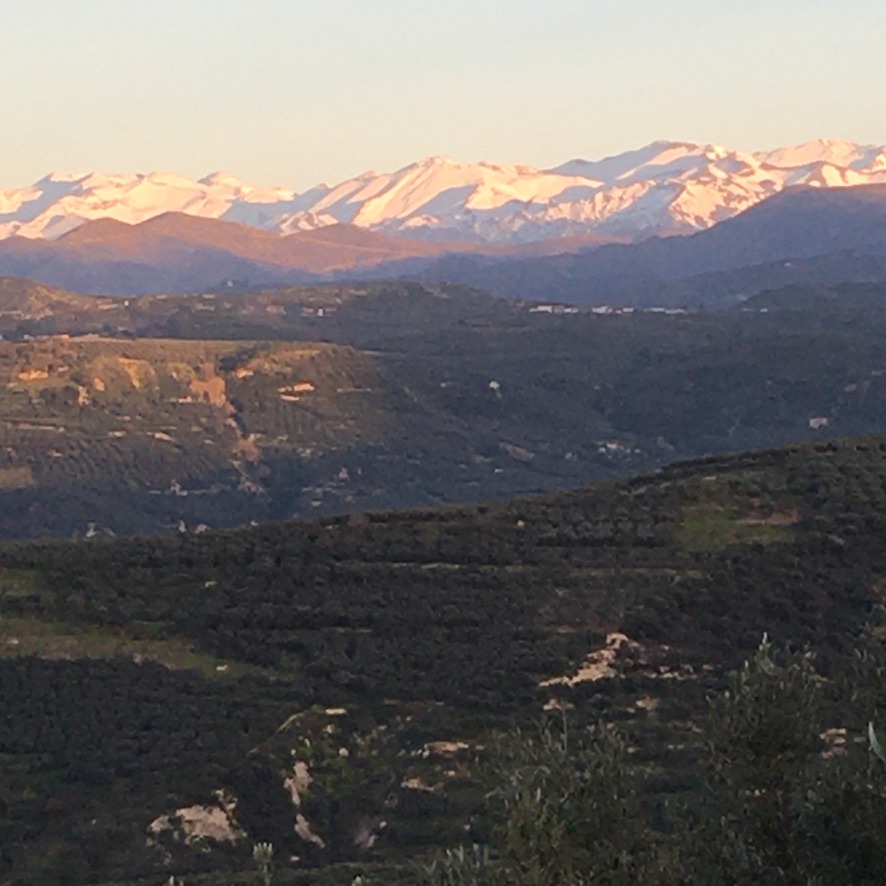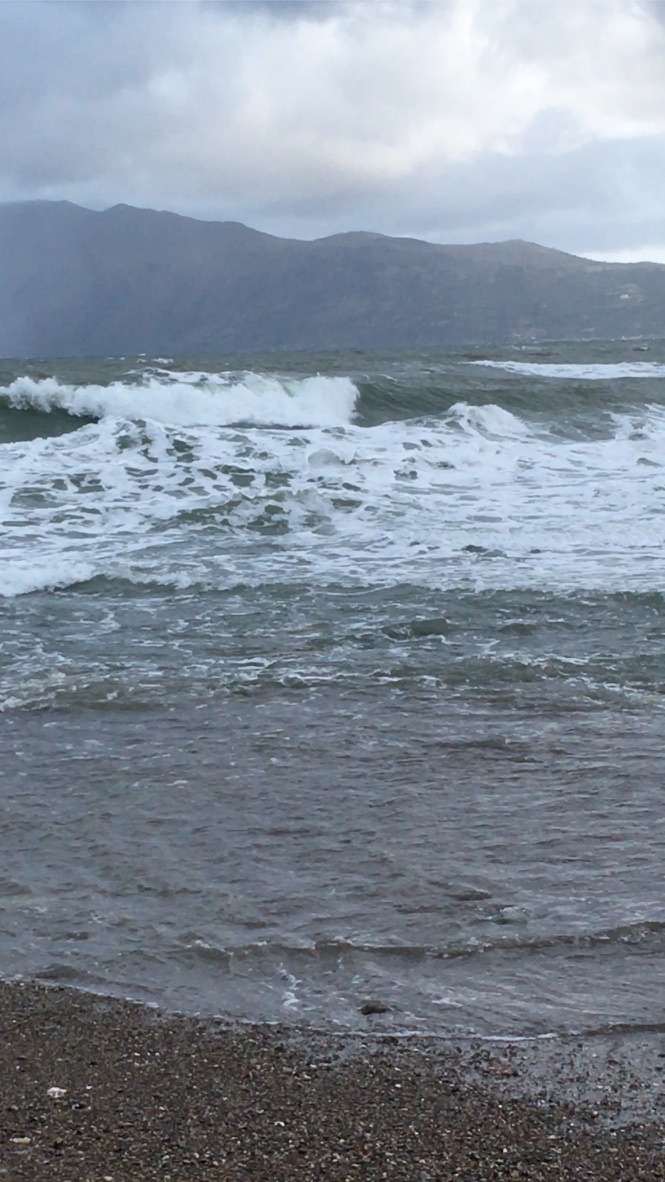 And maybe Winter
After all that, we are due a cold snap of 5C but feeling like -5C!! A new load of logs this morning, so maybe a few days of earlier fires.
Monday: we have got the cooler, rainy weather and now I have just lit the fire. The logs are neatly piled up – or as neat as I can make it, given that they are pretty weird shapes and sizes. My neat-freak side wants them to be tidier but so long as they can stay dry, that's the main thing. We were promised high winds and Tina and Eleni collected up our chairs and tied down the tables. I guess that's what's meant by a high wind in Western Crete.
MUSIC
Today you have a choice: massive Led Zeppelin live version of Whole Lotta Love
or a much quieter soundtrack from Studio Ghibli's When Marnie was There which I haven't seen yet. We have been having a rock music mini-binge. Must be the weather!
FOOD
Chick peas and cabbage – a combination I haven't used before. There are any number of recipes out there, so I invite you to Google that combination of ingredients.
Here's one I made:
https://www.bonappetit.com/recipe/turmeric-and-coconut-braised-cabbage-with-chickpeas
Fritters have also come onto the menu – courgette quite classic, be sure to salt and wring out the grated courgettes. Another great recipe for chick pea and sweet potato fritters from The Happy Pear.
READING
I think I have had a literary relapse. I couldn't quite manage LANNY – maybe another time. So have resorted to the classiest crime novels I could find. Oh and The Midnight Library – sort of interesting and sort of irritating. The Life we Bury was an interesting page-turner. No spoilers. I also like the Scandi-Icelandic genres. About to start Ragnar Jónasson's Winter Kill, and I have The Song of Achilles lined up. It has been lined up for a while; I may have to buy it.
Watching
Did I mention that I have become a 'Trekkie'? We have started with season one of Start Trek. I never watched it the first time around, and I am loving it. There's something relaxing about the pace of the episodes, and even the old 4×3 TV ratio makes for comfortable viewing. Temporarily giving up with Adam Curtis on the BBC iPlayer. Westerns: News of the World – Netflix film. Good guy finds abandoned white child, abducted during Indian raid. Atmospheric. Watchable. The White Tiger – for a dose of India. Close to the book and very visual. Has the smell of India. We are casting around for a new series, in spite of another 10.6 series of Star Trek.
BTW
This is the year of the Ox. My sign. I feel as though I really am going to have to put on the yoke and do some heavy ploughing if our lovely ideas for a life in Crete are to materialise. Of course my partner in harness is a Horse, so watch out for some interesting team work as the horns and hooves fly. It will not be a straight furrow, but the harvest should be bountiful.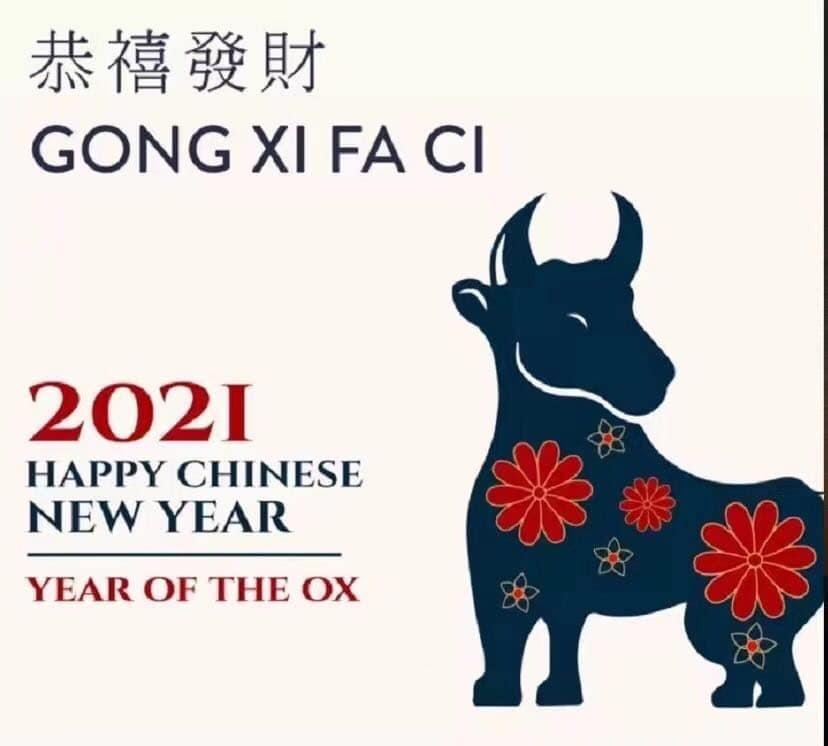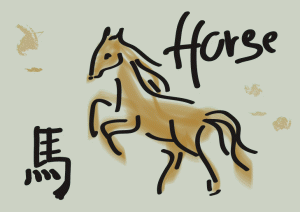 Feeling a little … what's the word – maybe wistful.
Not sure I have ever written that word before. Let Fairport Convention describe the feeling.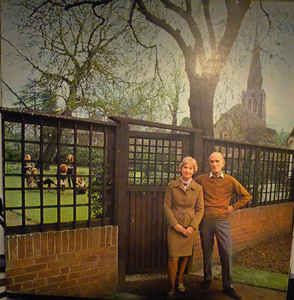 PS I make no apology for repeating myself in the blogs – I don't check back on what I have written previously, and I don't expect everyone to read everything in any case!
Coming soon:
Winter Light and Mr Toad
Here's the inspirational link – since we can't actually travel much, get aboard Al's NIGHT TRAIN.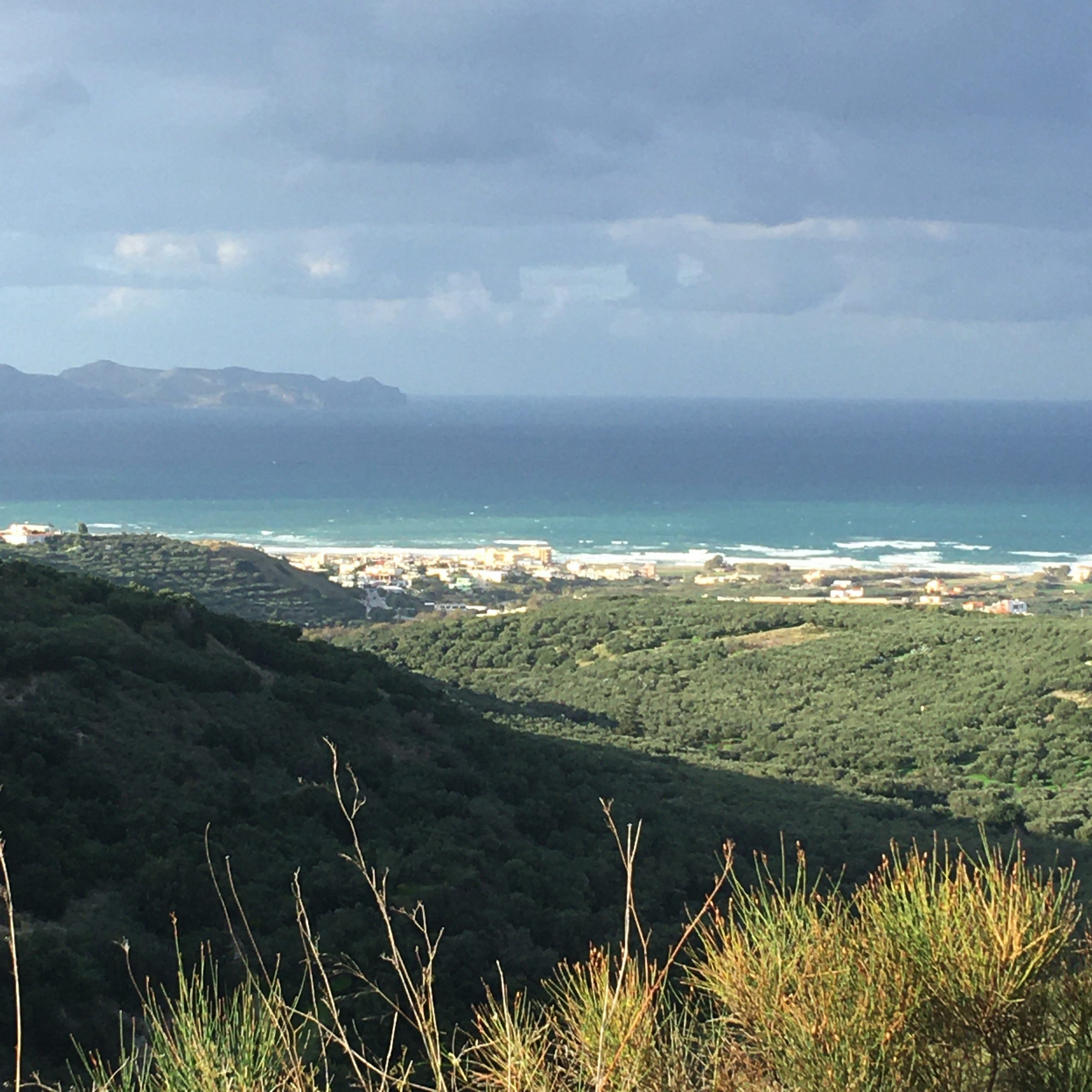 I do have a photo of the winter light, but missed the toad that I found in our woodpile! Now we are well into the second lockdown and I think we are both feeling a little stir crazy and fractious today. Just when I felt I was sort of turning a corner with Greek, I now feel myself to be , if not back at the ground floor, maybe wandering around in the lingerie department looking for the way out. Apologies, that's a terrible metaphor. Think Father Ted. I was doing 'small talk' with my Greek teacher this morning and she chose the topics Christmas, weekend, summer, hobbies and something else I can't remember. I found myself not just stuck for vocabulary, but stuck for content. Christmas I have tried to avoid for most of my adult life, preferring to spend the holiday on a beach, in a city, even hiding out a t home…. What a Grinch! Hobbies? No knitting, crochet, painting, musical instruments, organised sport…. Help! Reading, watching TV, Facebook & Instagram, yoga, cooking…. None of these feel like hobbies in the traditional sense. Quick somebody, buy me an AirFix kit. Or should I try making the Sagrada Familiar out of matchsticks.
22 December
Well , it's been a while! I have a 'new' Mac – a refurb. Or maybe just overstock. Anyway, not the very latest since it always seems to take a few months for the new operating systems to bed in. I spent quite a lot of the last couple of days on the phone with a very helpful and competent chap called Bruno who helped me through the migration process. Not quite straightforward since 2010 was very miffed and wouldn't cooperate at all with the new arrival. A bit like trying to introduce a kitten to the old cat. Anyway eventually the old cat settled down, and now here I am playing with the kitten.
British in Greece
Well, we are well on our way. We applied some while ago to be part of the Greek health system – the only way apart from extortionate private insurance. As the UK Gov has been kindly reminding us in the gaps between podcasts, we have left the EU and the transition period runs out in a matter of days. I will draw a veil over the Greek bureaucratic process. Maybe that is for another time! Enough to say that we have our precious 'health books' entitling us to treatment in the 9th best health system in the world. And I should shortly be in possession of a Greek driving licence. Al had completely confused the system with dual nationality but no actual civil existence in France. Happy Days!
What I am Listening To
NET ZERO , NOT A SLOGAN, A NECESSITY
Mark Carney's excellent Reith Lectures
https://www.bbc.co.uk/programmes/articles/43GjCh72bxWVSqSB84ZDJw0/reith-lectures-2020-how-we-get-what-we-value
And I have probably said this before, but the New York Times' puts out a podcast called THE DAILY. Somehow the Americans seem to be just better at podcasting. I find myself going back there when I need a new one. I do listen to Newscast from time to time, a habit formed when they were Brexitcast and I still cared what was happening in their world. Now I find them a bit too uncritical of the UK Government, and maybe just a little smug. Queen Laura Kuenssberg, it always feels to me as if she has one eye firmly on her dame hood, perhaps followed by DG of the BBC. But maybe that's just me, as they irritatingly say so often on Brexitcast. New Statesman daily Podcast, mainly because they all sound so YOUNG. Stephen Bush says 'like' more times in a minute than I draw breath.
What I Watch
Really this should be What We Watch, since mostly we watch together win the evening, holding one of our laptops whist sitting on the sofa. I am very taken with His Dark Materials and can't quite make the link between this series and the second Book of Dust. But I will hang in there. I may have to read / listen to the original again. There's a great BBC audio production of the His Dark Materials, completely faithful to the books. I got a bootlegged copy from Jamie Hunter which I listened to whilst working on Snork Maiden in a distant winter.
We have also started to watch a French series on Netflix CALL MY AGENT. A small French agency in Paris (where else). A new star each week makes a different problem for the agency to solve as well as an insight into Parisian life and loves. And a dog called Jean Gabin. Some gentle and very well done slapstick. Very French.
One series only of GODLESS – a kind of feminist western. I love westerns for the landscape and the horses. This one has an unusual storyline, and plenty gunfire and, of course, horses.
SNORK MAIDEN
No reason why any of you would know this, but I send this Blog out to Friends of Snork Maiden. As some of you know, she has been visited at least once a year, but we haven't sailed her for an astounding 6 years. I used to wonder how it was that boats didn't move from the spot, well, now I know. Initially we wanted to just do something different for the summer, so off we went to Sardinia in the all terrain C5. Spectacular trip, mainly camping, with a drive down through France and a lot of ferries. Then Al's mother died, his Dad was hard put to cope – you can see how that went. All the time we hoped we could sail 'next year' and progressively, it didn't happen. I had such high hopes of this year (2020) that I bought an entire set of running rigging (ropes, to you) and a few other bits and pieces at last year's Southampton Boat Show. We would usually be in France by the end of May in a 'normal' sailing year, but as we all know, this year was not at all normal. We had only just come out of lockdown, were hitting the beach and snorkelling as often as we could, and the Cretan summer seemed like a safer and all round better proposition than travelling back to the UK. Hard to recall now the restrictions that were in place. I think June and July saw restaurants opening for outdoor service, but we pretty much kept ourselves 'shielded' apart from a few outdoor meetings with friends. So Snork Maiden was left in her land berth, unvisited and with her hull dry. Somewhere in those 2000 Brexit pages, the status of a UK boat kept in France, may be explained. One last try next year, and if we don't manage it then, we must sell her and let someone else have a go. There are many charter fleets in the Greek Islands, and bargains come up at either end of the season, so not hanging up my sailing trousers just yet.
25 December 2020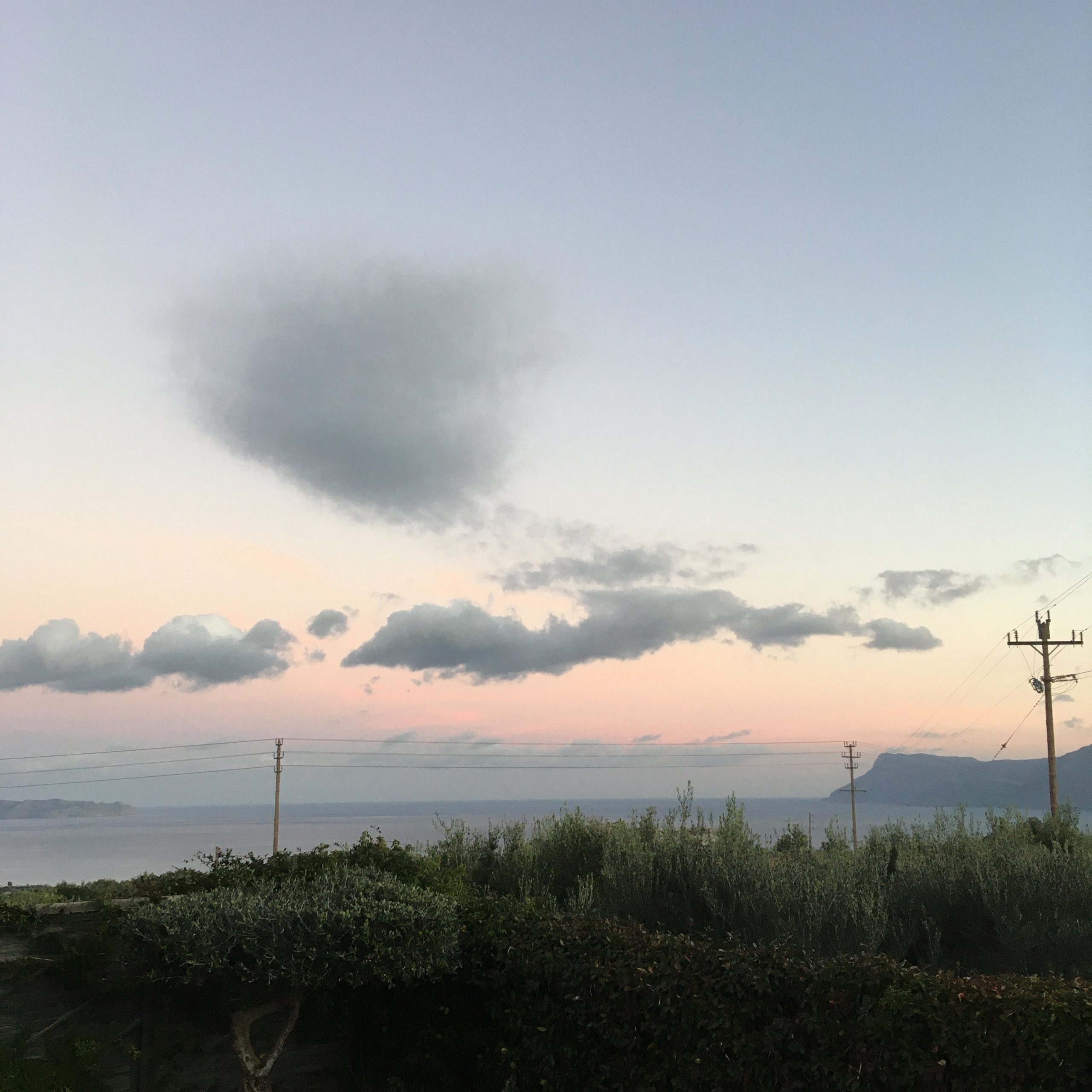 Christmas Day – we have often spent 25 December out of the UK. I don't like the schlocky aspects, although I do like the 'feel' of December. We got married on December 18th and I get a kind of anticipatory sense in the early part of December that I can trace back to 2006. So that Christmas was our Honeymoon in Venice, by train, of course. Then I think I went to India straight after for a month's yoga in Pune. I can also remember Christmases in Mexico, California (with Stuart and Gayle), the Canaries, Spain, Naples and last year, Athens. This is just a reminder of how much the world has changed in 2020. This year not just exceptional because we were swimming a couple of days before Christmas but also because our friends and neighbours offered to cook us Christmas lunch, bringing it over to us, since we can't yet all enjoy a meal around the same table. Fish, perfectly cooked in a bed of Mediterranean veg accompanied by a special salad, laced with figs and home sun dried cherry tomatoes. Enjoyed with a bottle of white wine from another of our friends here, and chased with a glass of port (also a gift) and followed by a serious afternoon snooze. Oh yes, then a game of Scrabble with a Greek twist. Είναι Ελλενικα, οχι Αγγλικα. Get the idea? We modified the game to allow copious dictionary consultation and no scoring (although Al claimed that he won). Oh and in the morning we walked on Falasana beach, a short drive away. A good day!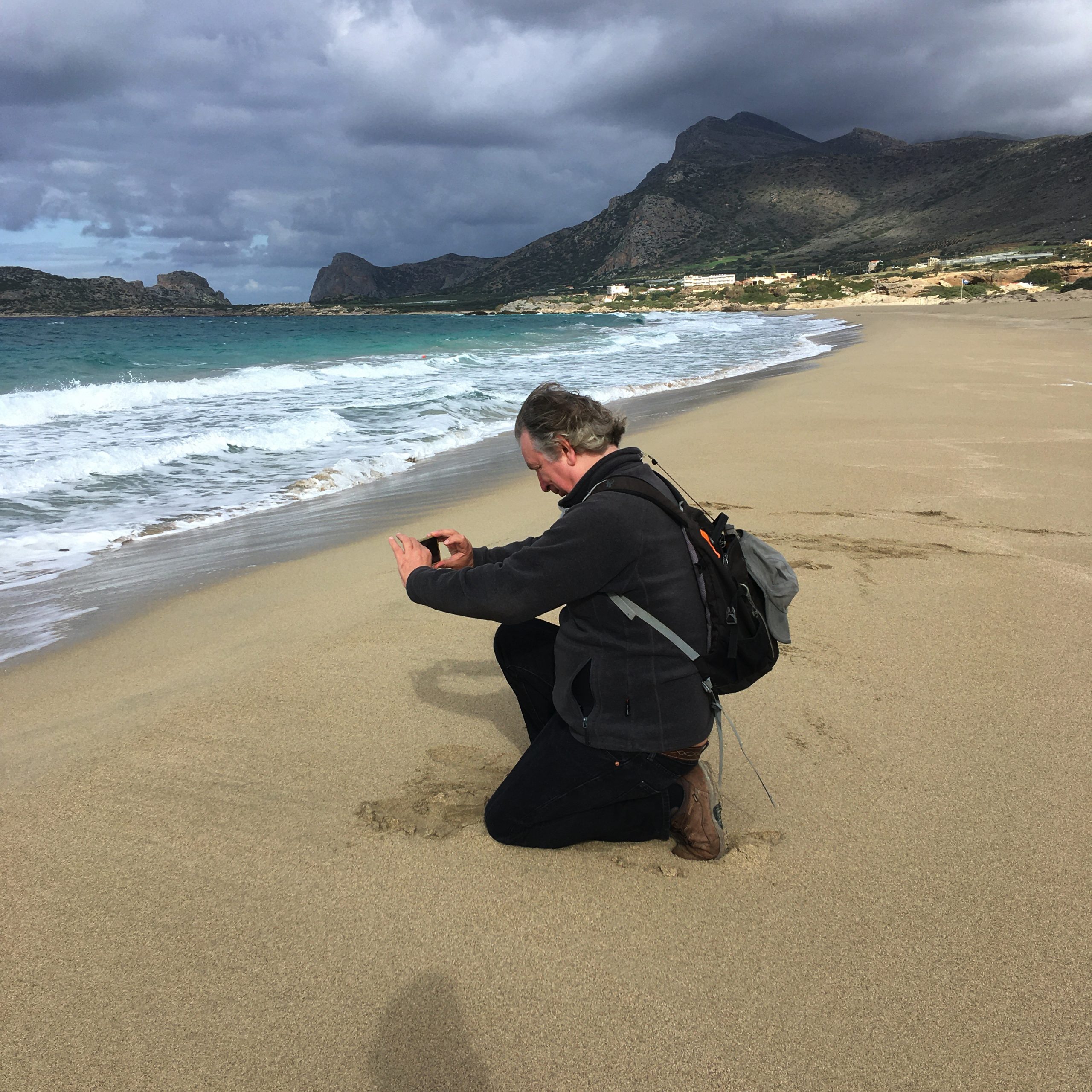 Brexit, Corona Virus
Maybe keep these for another time….
And for you plant lovers, there is a sort of early spring thing going on here in Crete, which has its very own take on the seasons: