Christmas Eve
Music – your choice: 9 lessons and carols (bbc iPlayer) or
For the darker side!
Below a Serial Killer Santa spotted outside a knife shop in Chania – the Cretans are big on knives.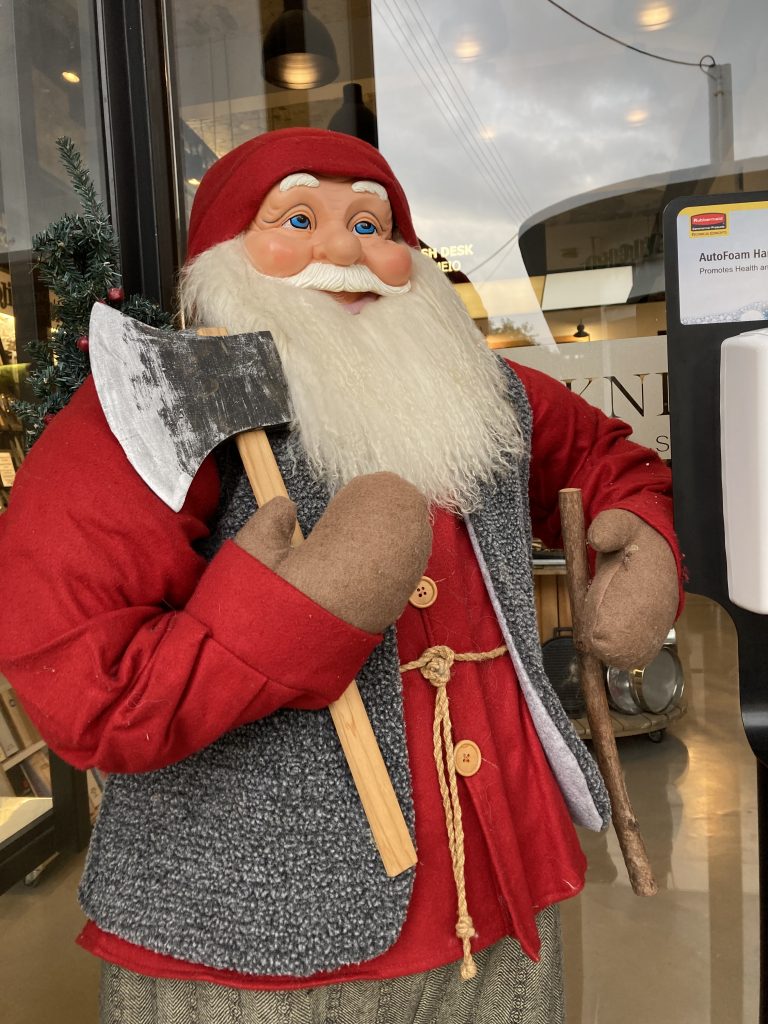 I may have said this last year – I always listen to the BBC's 9 Lessons& Carols from Kings College Cambridge. I don't have many rituals in my life, but that seems to be one of them. I like the music, and the readings remind me just how crazy religions can be. I can't find any other meaning in the early readings than the rejection of nature, loss of respect for animals and a put down of the goddess. So it reminds me of what we are up against! This time the opening soprano lost it on a high note. You really had to feel for him.
So while we are thinking about the holly-days, here's our greetings card to all of you.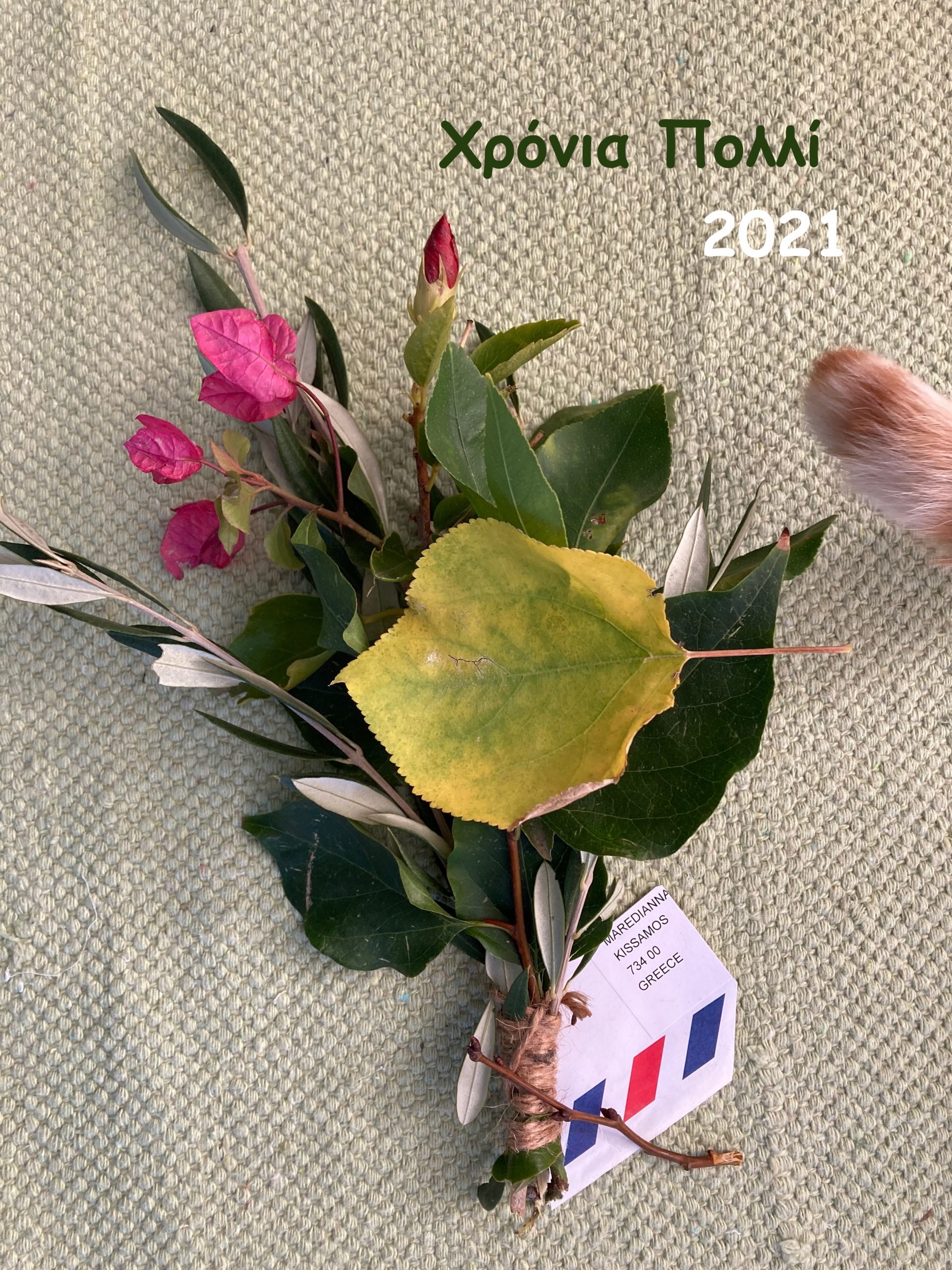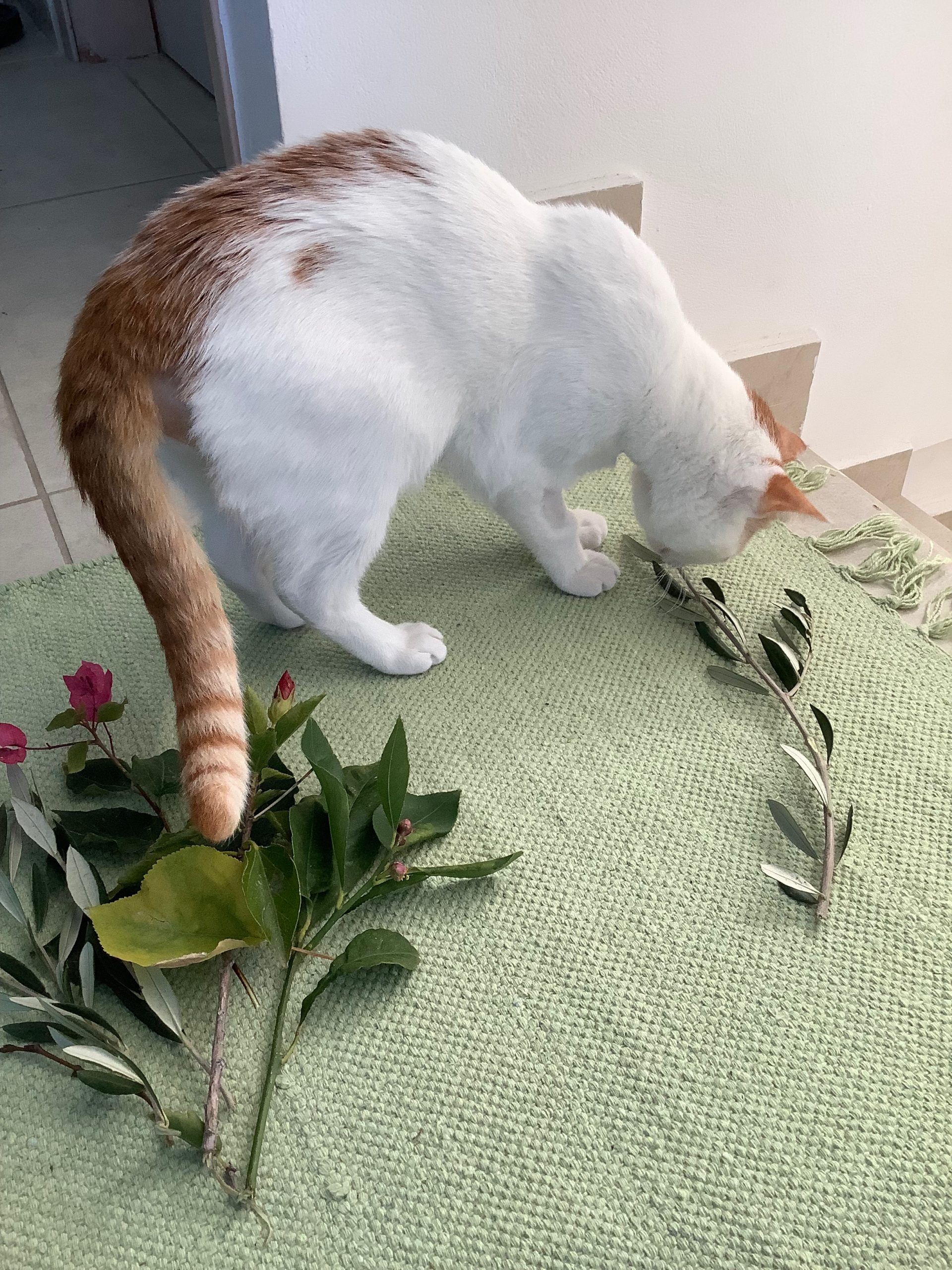 I made it myself, with a little help from my furry friend.
I suppose the Mediterranean midwinter is always going to be a bit different from the British experience. I have liked Christmas in London when the dusk falls thickly, and there's a rush to buy inappropriate presents, more alcohol (just in case) and with any luck a reduced price pudding. (No, I don't make my own.)
Life:
The last couple of weeks have been a carousel of practicalities – fixing up electricity bills, internet and a saga of white goods. Our Cat gave up his testicles in exchange for a quieter and longer life. We spent a week mostly closeted with him in the bedroom as he recovered. Interesting to see how he coped with the collar. When he first staggered out of his cat carrier, he must have seen or felt the collar and turned into devil cat, scratching, biting and fighting off any attempt to calm him down. He managed to leap over the sofa and down the stairs as if pursued by demons. One in our bedroom, he calmed completely and settled in my arms. We made him a bed out of a nest of fleeces next to the radiator and for the next week he alternated between his bed and ours. It was pleasant to be able to lie around in bed, reading and listening to podcasts without having to be ill. He coped with the collar by becoming very passive – also walking backwards, as if he could back away from it. After a couple of days we risked taking it off so he could eat and drink more easily and also begin to wash himself. I felt like a victorian nurse, pouncing on him as he approached the danger area and stopped him licking. After a bit of practice it was quite easy to put the collar back on, and he was remarkably accepting of it. Also appreciative of the breaks.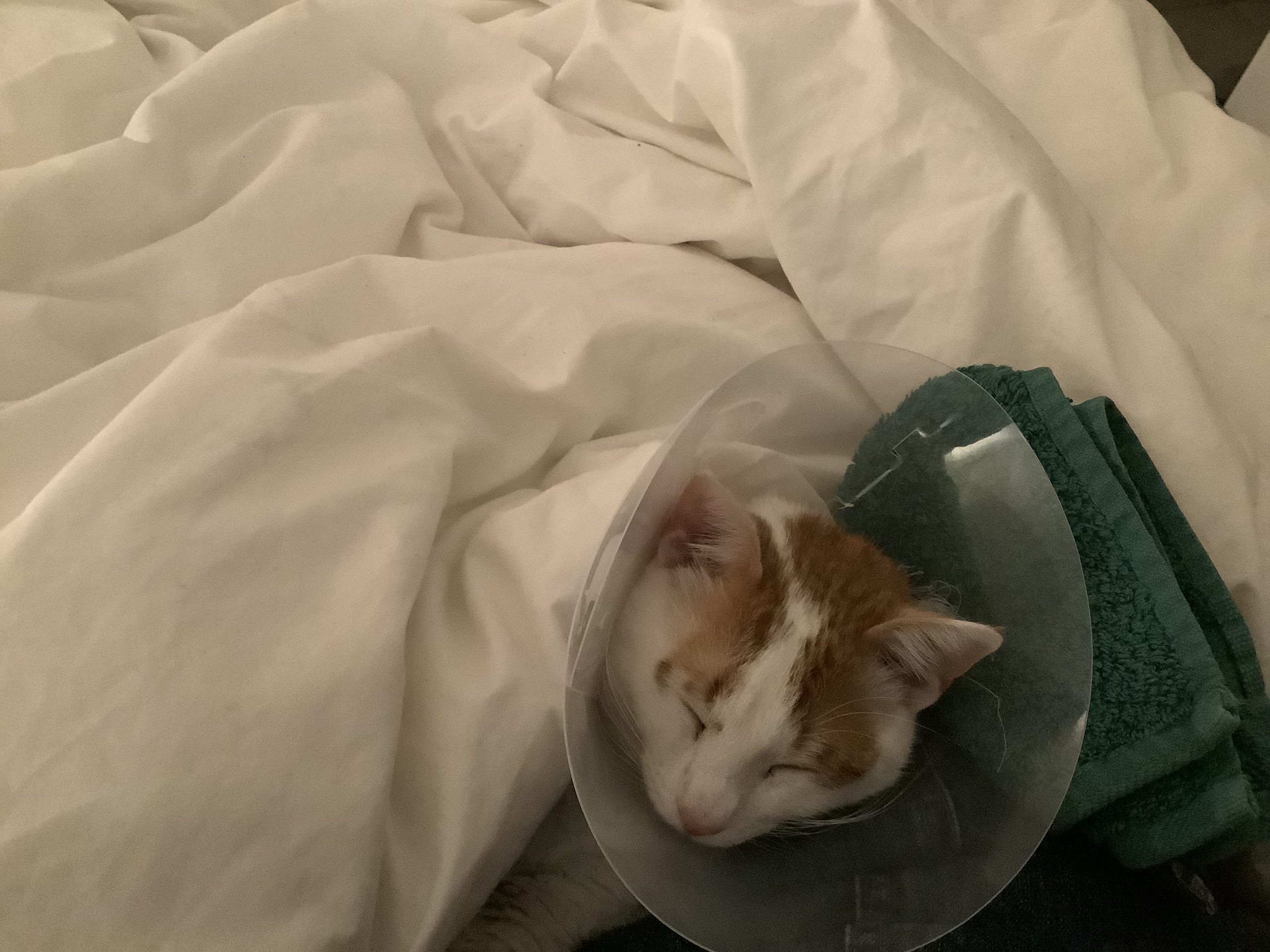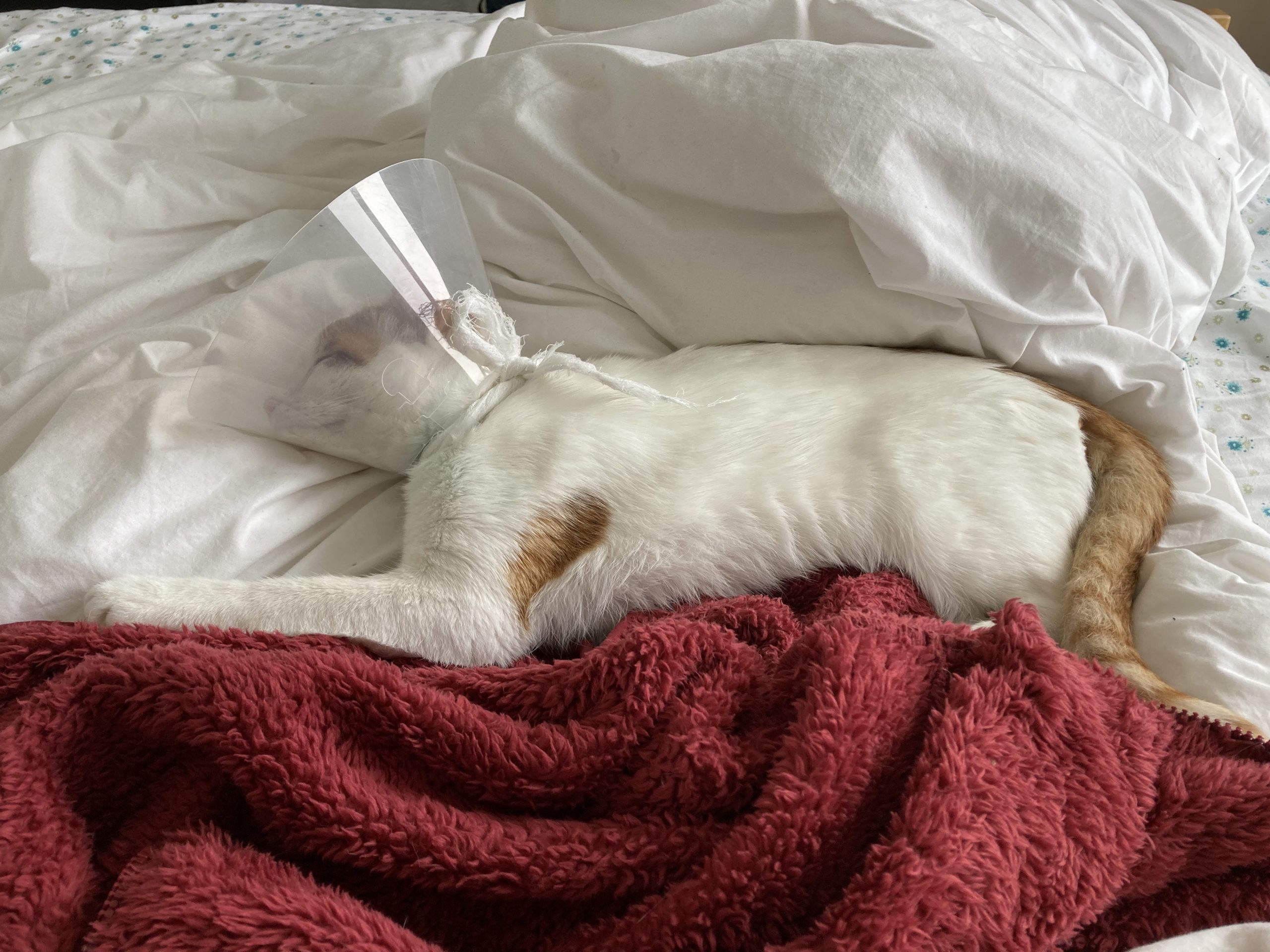 The convalescence paid off, he healed beautifully and the shaved patches are starting to fur up nicely. If I sound a bit cat obsessed, just count yourself lucky that you don't have to read about the saga of the white goods (mostly stainless steel in the modern kitchen idiom). Back to his old self, maybe a bit more kitten-ish and playful, and he has found his purr, mislaid a while ago. I am meditating on 'the way of the cat' so expect some furry philosophy.
Reading and watching
Reading – usual diet of mysteries, police procedurals, currently John Grisham's A Time for Mercy. I read these for their page-turning qualities, but also I favour books that transport me to a different place or time. The Grisham is set in a small town in the American south c. 1990. Seriously – The Mother Tree, story of how forests are connected and probably how your privet hedge communicates with the one next door. I fact there's probably an unbroken chain of privet from Hampstead to Harpenden.
Films – we have struggled a bit here. Trying to watch the 5, or is it 6, main Star Wars films. Number one, A New Hope went down OK, but The Empire Strikes Back sent me to sleep. Just the way it did on release. We'll take a break. The Power of the Dog appealed to me. Slow and delicious to look at. We are currently watching The Brand New Testament – a very quirky Belgian film about the daughter of God. Recommended.
Ο οr Ω
Well, Omicron still with us with a vengeance. It is here in Chania district, not sure how much in Kissamos, but can't imagine it will stay away! We now required to wear masks in the street, FFP2s in shops and supermarkets…. We also have refreshed Covid certificates. Greek website surprisingly efficient.
What about your building plot?
Well, good news there – the first permit application is in! At last! We will meet the architect in the New Year to begin thinking about an actual build. Remember, we don't complete the land purchase until the first permission is through. Then the actual house design has to be submitted by this time next year. At the moment the plot is occupied by old vines and young olive trees. Also yellow flowers are just breaking out. More of all that next time.