In the 6 months or so that we have been here in Crete, we have eaten out a handful of times – always outside or on a terrace and only a few times with friends here in Marediana, outdoors since the Pandemic got serious.
While were still in our mountain hideaway, our friends Mick and Sue were at their house on the Akrotiri peninsula; it's the other side of Chania, where we stopped to buy a ukulele. As difficult to park as ever. I drove into the same parking structure twice (different entrances) and each time was told I had to have an employee park my car, even though the second time I had put it in a free space. Eventually found a space in a small street, next to a deserted house which of course, set off a whole train of thought. Most people on the street wearing masks. First time in CHANIA since we arrived at the airport at the beginning of March. Strange to be in an actual city.
Arrived at their house after some Google map street exploring, then straight off to the Beach Shack.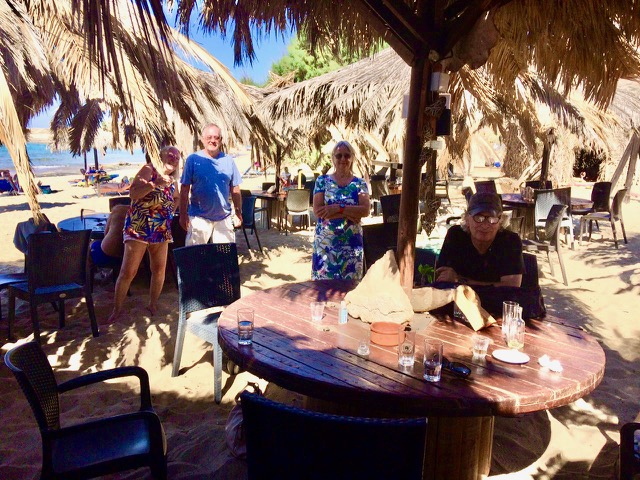 https://goo.gl/maps/1Awz3EPNZ3hBRoju5
The shack is run by a French woman and the food is Greek with flair. Smoked aubergine to make anyone swoon. Lovely afternoon with friends, such a valuable and rare experience in these times. Beautiful evening drive back to our temporary home in the mountains.
This morning I am sitting on the terrace drinking ginger tea.
So what is new? I have been struggling with enjoyment of tea ever since my second pack of Provamel ran out. The local supermarket used to have unsweetened ALPRO soya milk, but now that has disappeared. I have tried the slightly sweet but I couldn't really get on with that either!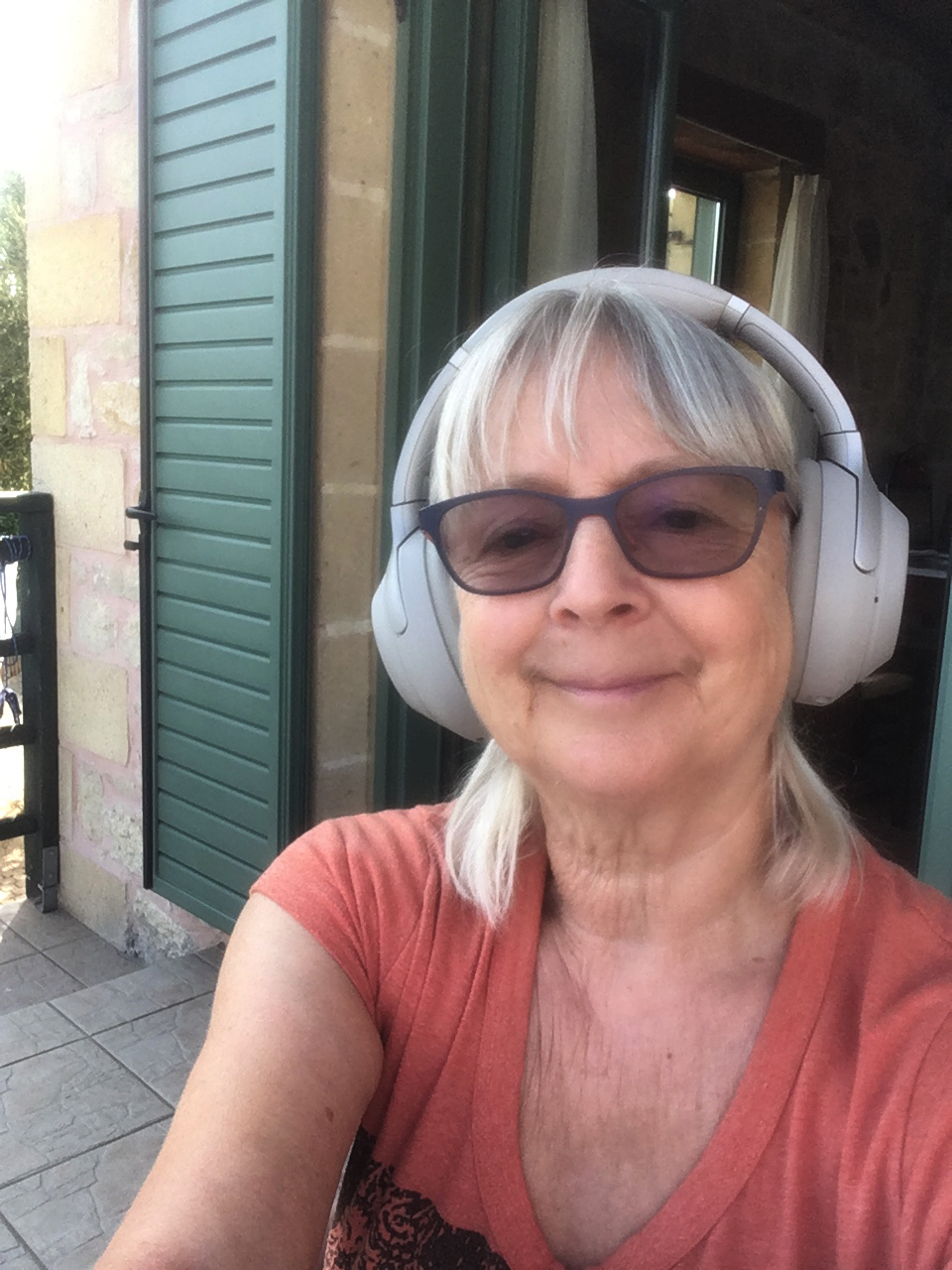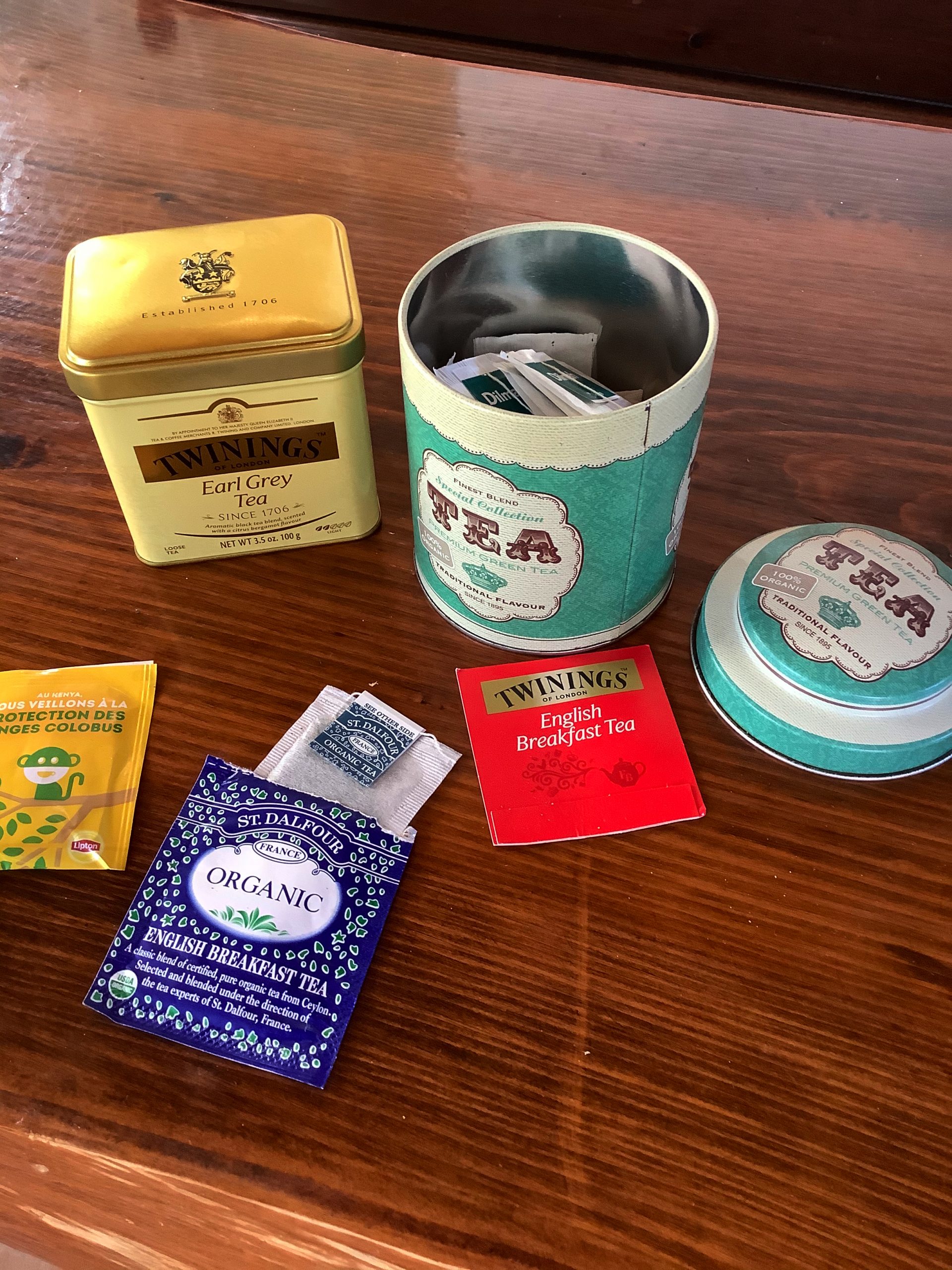 And of course we have completely run out of English style Τ bags. Eschewing LIPTON's yellow bags, we have tried just about anything else that's available in Kissamos and Kolimbari. Dalfour produce an organic variety with an elaborate string device and some sort of plasticisied individual wrap. AL manages with Twinings red tea bags, also individually wrapped and tagged. My salvation has been loose Earl Grey in a tin, also Twinings. And I have resorted to cow milk which the Early Grey hides quite well. Which brings me to this morning's ginger tea.
I realised that I was missing not only my friend and teacher LYNDA, but also her excellent ginger tea. After a couple of weeks of internal whining, I finally realised that I could make my own. And I don't mind it with cow milk. It still lacks the right hook to the jaw punch of 'English' tea but it works ."
I really thought that this blog would be very easy to write because them is so much to say, but at turns out to be the problem.
MISSING INGREDIENTS
Apart from the tea, coriander, tofu, Quorn (sorry about that), maple syrup, taramasalata (I know, the only good one here from our friend Despoina's kitchen) – so not much really. Ice cream, kind of, although it's a weakness. Like many women, I can demolish half a litre in some moods. Worst we do here is a double Magnum (Magic) between two.
My weekly shop usually starts at the greengrocer (μανάβης) but I am a bit anxious because he doesn't wear a mask. Last week his son was working. He had no problem with wearing a mask and was careful to make sure that it covered his nose. Anyway, there is good supply of fresh veg. and fruit, mostly sourced from Crete, or at least Greece, mainly seasonal, of course, but given the area of plastic tunnels here, tomatoes peppers and aubergines will probably be available through the winter. Watch this space.
There's one recipe that I found a really unusual combination of chick peas and rice with a secret ingredient:
Greek Chickpeas and Rice with Lemon & Tahini
"This one-pot traditional Greek chickpeas and rice is a delicious comforting meal and the lemon-tahini takes it to another level."
By Elena Paravantes
1 1⁄2 cup canned or 3⁄4 cup dry chickpeas
1 tablespoon tahini
Juice from 1 1⁄2 lemons plus more for serving 2 tablespoons extra virgin olive oil
1 medium onion chopped
1 garlic clove minced
3⁄4 cup uncooked medium grain rice 1⁄2 teaspoon salt (I used brown rice)
Pepper
1 bay leaf
Parsley
Instructions
If using dry chickpeas: soak overnight, next day simmer for 20-40 minutes until cooked but not mushy, drain set aside and save 2 cups of the cooking water. (I cook dried chick peas in my pressure cooker but your choice!)
In a medium pot heat 2 tablespoons of olive oil and sauté onion until soft. Meanwhile in small bowl mix the tahini with the lemon juice and 3-4 tablespoons of water.
Once onion is soft, add garlic and sauté for a minute, then add rice and beans and stir until they are coated in oil.
Add the tahini-lemon mixture, salt, pepper, bay leaf and about 1 1/2 cup of the water leftover from the chickpeas (if cooked from dry, otherwise just regular water) and simmer for about 15-20 minutes, until rice is done, and water has been absorbed. You may add more hot water if needed.
Serve with extra lemon and chopped parsley.
🍸🍸🍸
Oh and what about the drink?
Hmm. Not doing so well on that front. Cretan white wine is good, especially 2018. Some retsina is kind of drinkable and I have become fond of a very cold Mythos beer now and again or maybe a little more often. So reading between the lines, you will be wondering why it figures in my yogic diet at all. Not at all satvic. I wonder that myself. I have had a couple of 'white weeks' but I fear that the evening alcohol is becoming too regular. I plan to stop. It's a risk factor.
I am sure I could find much more to write on the delights of Mousaka (I have developed a faster method of cooking it), Boureki, several kinds of pies, giant baked beans…..
🌸🌸🌸
Reading: Normal People by Sally Rooney
(Thanks to Sally Randle for suggesting library app Libby and cheating Apple and Amazon out of their loot).
COMING SOON…. Taste of Winter