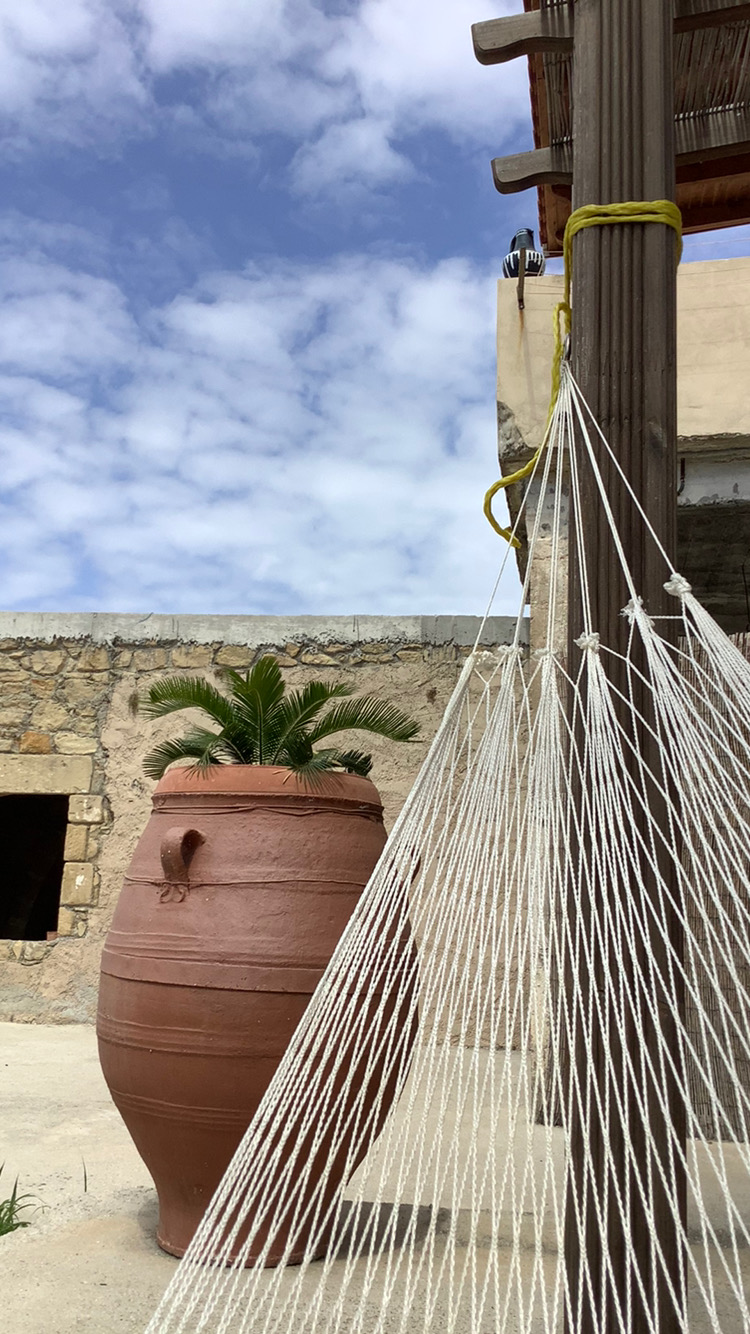 with music link
Well so here we are still in the pretty little village house. There's an occasional soundtrack of cock crow, villagers shouting conversations over a quite impressive difference, kids playing, the odd bark. The plan is to stay here until the end of September, or maybe a bit longer, but in our experience, the tail end of October gets a little chilly. The heating here is the reversible air conditioner – not very effective. Using the oven might actually heat the room too. So the hunt for our long-term rental is on. We have seen maybe half a dozen places. Of course nothing is perfect, but it's a question of locating the best compromise.
I was going to give you some images of houses we have seen, but I took fewer photos than I meant to. I will see if Al can help out.
For any masochists amongst you, check out
to see what we are up against. Of course you will see lots of places and think we have oodles of choice. Problem – the best houses are in the wrong place! We thought we might be prepared to go as far as Chania, 40 minutes away, and we even considered Akrotiri (peninsula adjacent to Chania, now home to the airport as well as part of the American base). After a couple of viewings (one house very high spec. with a fridge I could fall in love with), we decided that it's just too spoilt, too far and not enough quiet places to swim. Every time we return to 'our' end of the island, it feels like home, so we are trying our best to stay West of Chania, and preferably close to Kissamos. At the moment we are trying to decide between a house that might be available and an apartment – surprise, surprise. Problem: the house might be sold, and the apartment not available until New Year, leaving us with a possibly chilly November/ December problem. If neither work out, we will just have to return to the drawing board!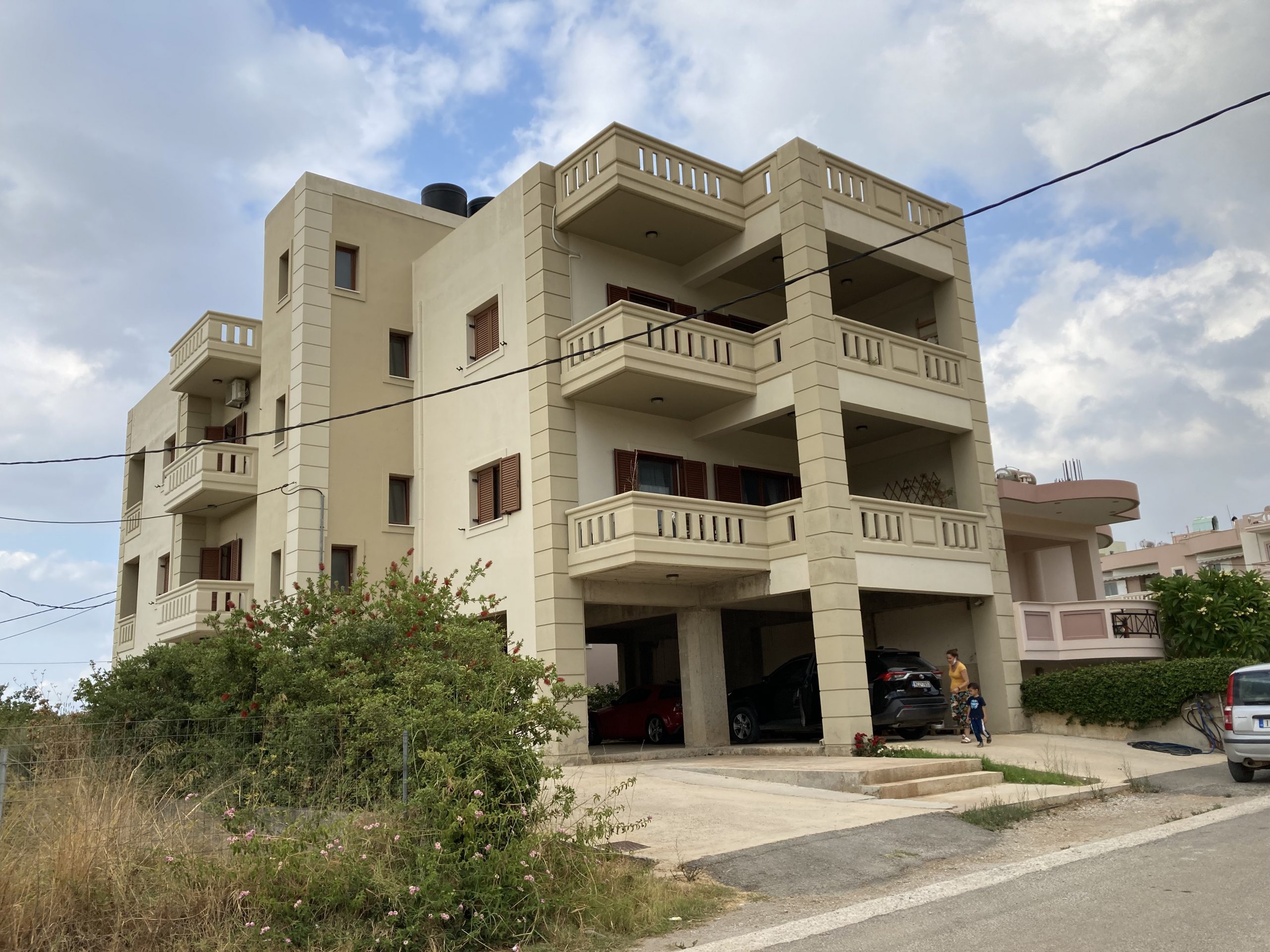 Lots more detail about our lives and relocation are available on request! It's a bit of a kaleidoscope of looking at houses, buying a car, generally taking care of business. Too much detail I think.
Wednesday 22 September
Exactly a month since we woke up in Marediana again, to a full moon, high and silver in the Western sky, and a layer of cloud lying like a duvet in the bay. Yesterday we bought a car – hope to take delivery in the next few days – pic to follow. Al has gone to the local KEP office (a kind of multi-purpose Government office) to begin the process of exchanging his UK driving license for a Greek one – essential since Brexit for people who are living here.
We have spent a lot of the last month dealing with business. The land purchase remains in the balance. We met with Lola the lawyer last week – she's energetic and thorough and has come up with a couple of ideas for the pre-contract that will give us a little more protection. The seller is difficult to communicate with, and has no lawyer so its down to the persuasive powers of Kostis, his engineer (surveyor) who brokered the deal in the first place. Keep wishing us luck!
As a backstop, we have been combing the market for a suitable house. We have seen the 'enchanted house' – fabulous, on a hill top with fantastic views but appears jerry built with many cracks and damp patches, the multi-part Topolia house (actually 3 living spaces stacked up above the road to Elafonisi) and the workable but a bit boring house in outside a village whose name loosely translates as Mouseville. The last house has exactly what we need in terms of living space (3 bedrooms), self-contained guest apartment in semi basement (surprisingly light, kitchen installation not yet complete) and a massive cellar that could house a studio. The situation is good, views to sea and mountains, olive trees space for swimming pool, not too far from the epicentre of our search, but I find myself unmoved. Maybe something to do with it being just not in the area we want, west of Kolimbari. Maybe because the house layout just not interesting enough.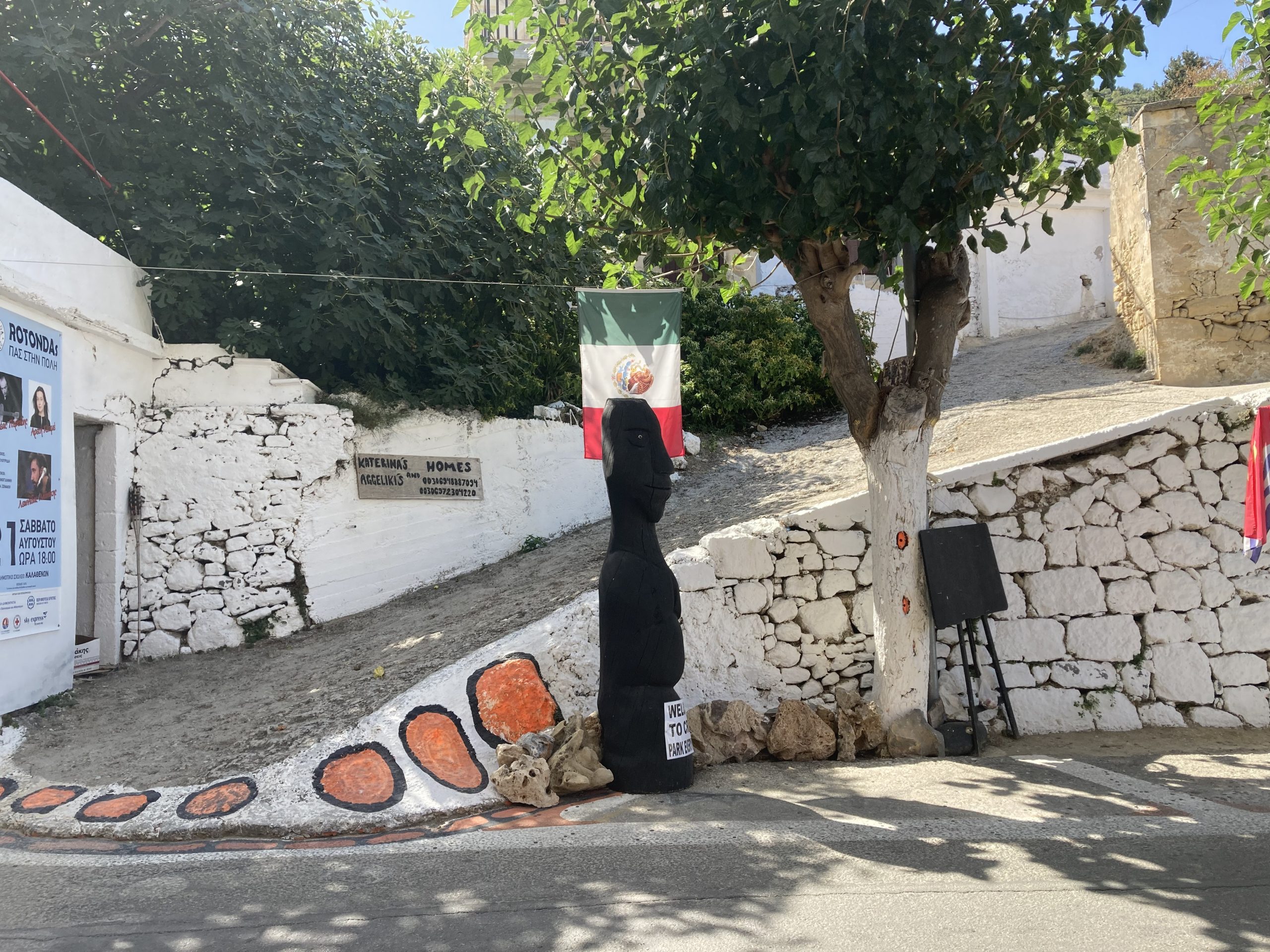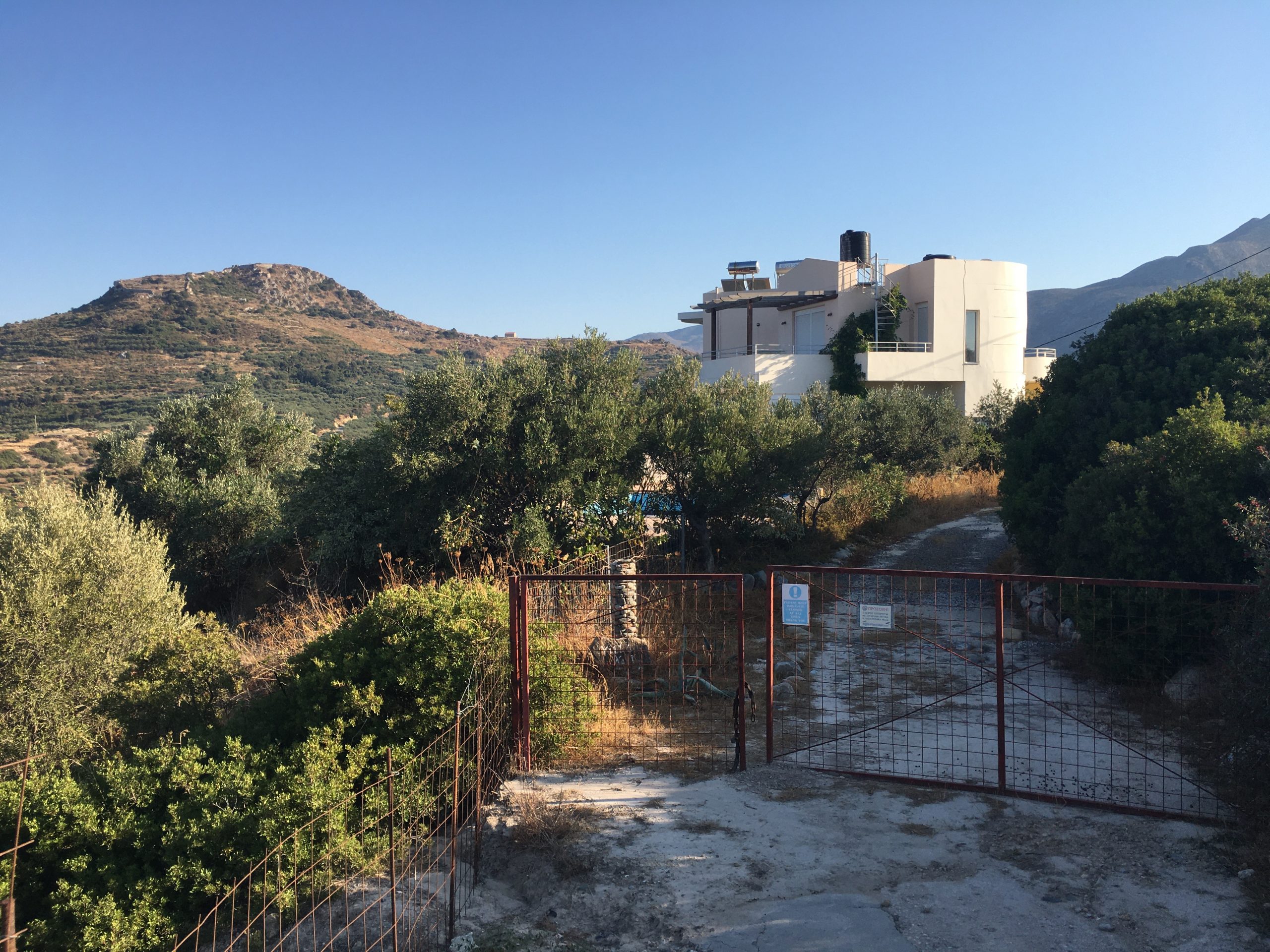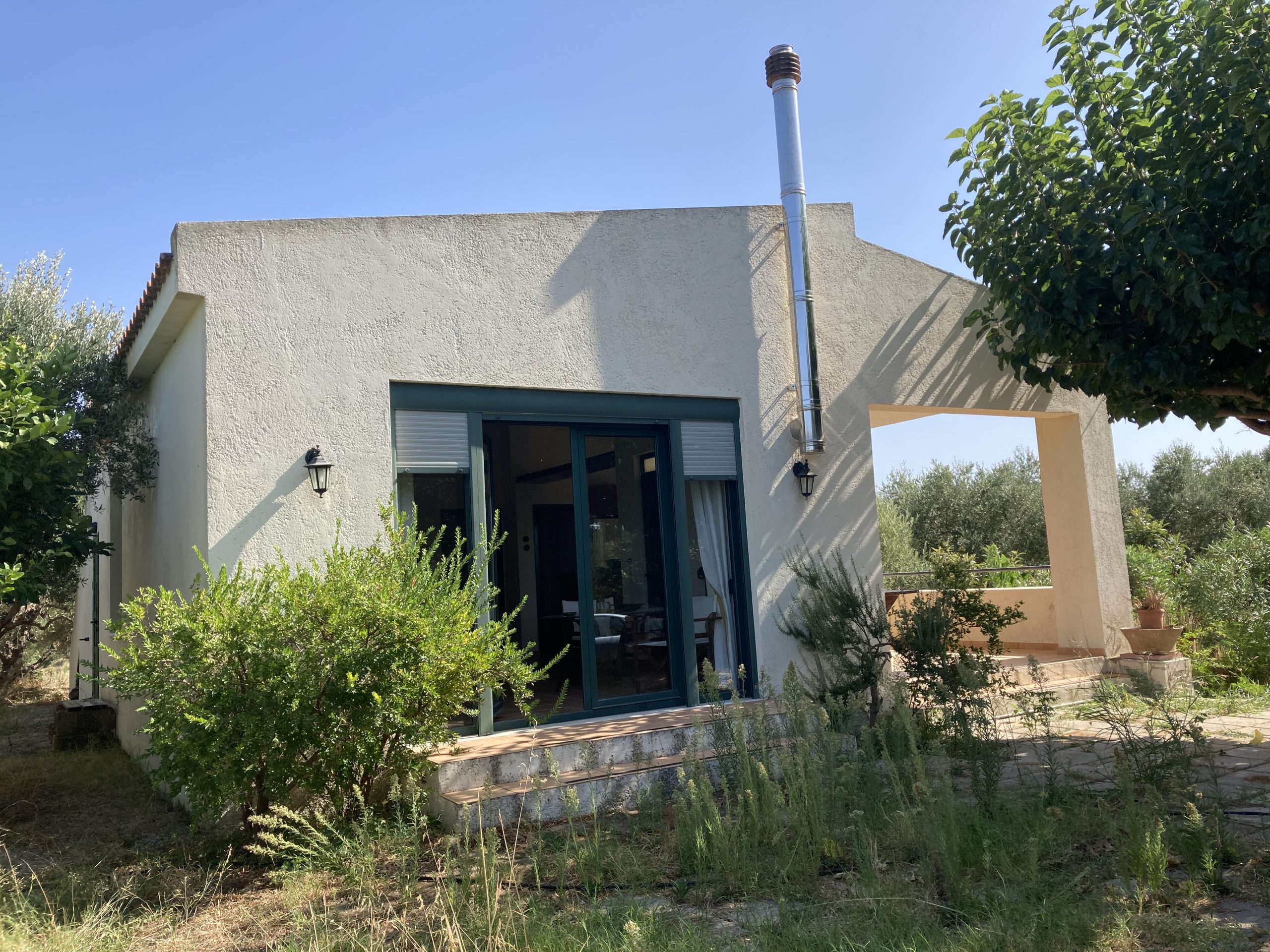 Sunday 26 September
The news on the plot is still no news, with no clue as to whether the engineer (surveyor) has approached the seller, whether the seller has considered the pre-contract terms, or whether the seller actually wants to sell or isn't too bothered. I am seriously thinking that we should try to organise a meeting with the seller, so that we can ask him directly. Many things in Greece seem to be resolved by a face to face meeting. Wish us more luck!
Today we went down to the port to find out the timetable and price of tickets to Kythira – about 4 hours away by Seajets Ferry. The answer is 3 times a week and 202 euros for ourselves and the car (hopefully the new car). We think it's time for an island holiday – I know it must seem as though we are already on one of those, but we have spent most of the month we have been here securing the foundations of our lives for the next year, at least. We could do with a break.
Since we arrived in March 2020, we have watched the ferry leave, and it's time to get on it.
Sally Randle and I went to Greece in 1983, I think. On a whim, because I think I had seen the island whilst on a ferry from the Peloponnese in 1980. It has an umbilical connection with Australia, and when Sally and I arrived, it was packed with Aussies visiting their Greek families. We failed to find a room so slept in a half-finished hotel. Looking forward to seeing it again. The island, not the hotel, which I doubt I could recognise.
What am I Reading?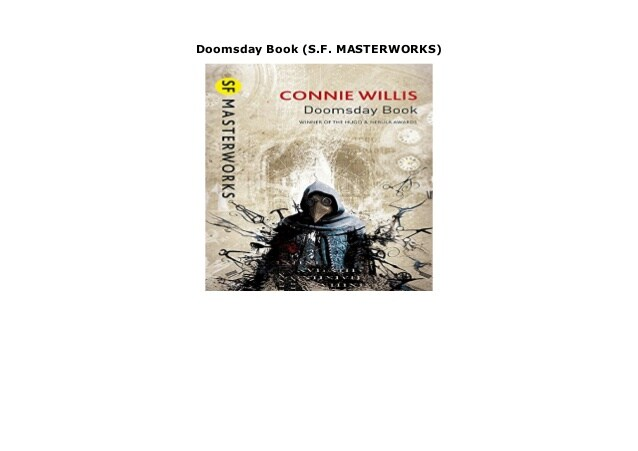 I seem to be hitting a seam of fantasy, sci-fi – perhaps on my way to Greek mythology…. Having finished Harry Potter, and revisited Philip Pullman's Book of Dust, I found the above – I think you might be able to download free using the link. It's a story of a historian's time travel back to the 14th century. Will she, won't she find her way back to her own time. Meanwhile a new virus invades the Oxford College that is her base, complicating plans for her rescue. A lot of domestic detail about life in 1320 which as an ahistorical person, I found fascinating. Who has glass in their windows? What colour were women's clothes? How cold were the winters?
And watching?
Hmm. Succession, sort of reluctantly, but it's quite hookey.
And eating?
Our cooking facilities here are a bit limited. There are 2 rings, but can't use 2 large pans at the same time. Sink has a single drainer and there's a tiny preparation space. The oven/grill is up on a shelf, and at the moment, all cooking makes the living space too warm, so meals are simple – pasta with variety of vegetables, lentil and veg soups, Greek salads, and hummus when I remember to soak the chick peas. I have bought a can of coconut milk and I am planning a curry. Huge gastric excitement. Maybe I will find some Tofu. Watch this space….