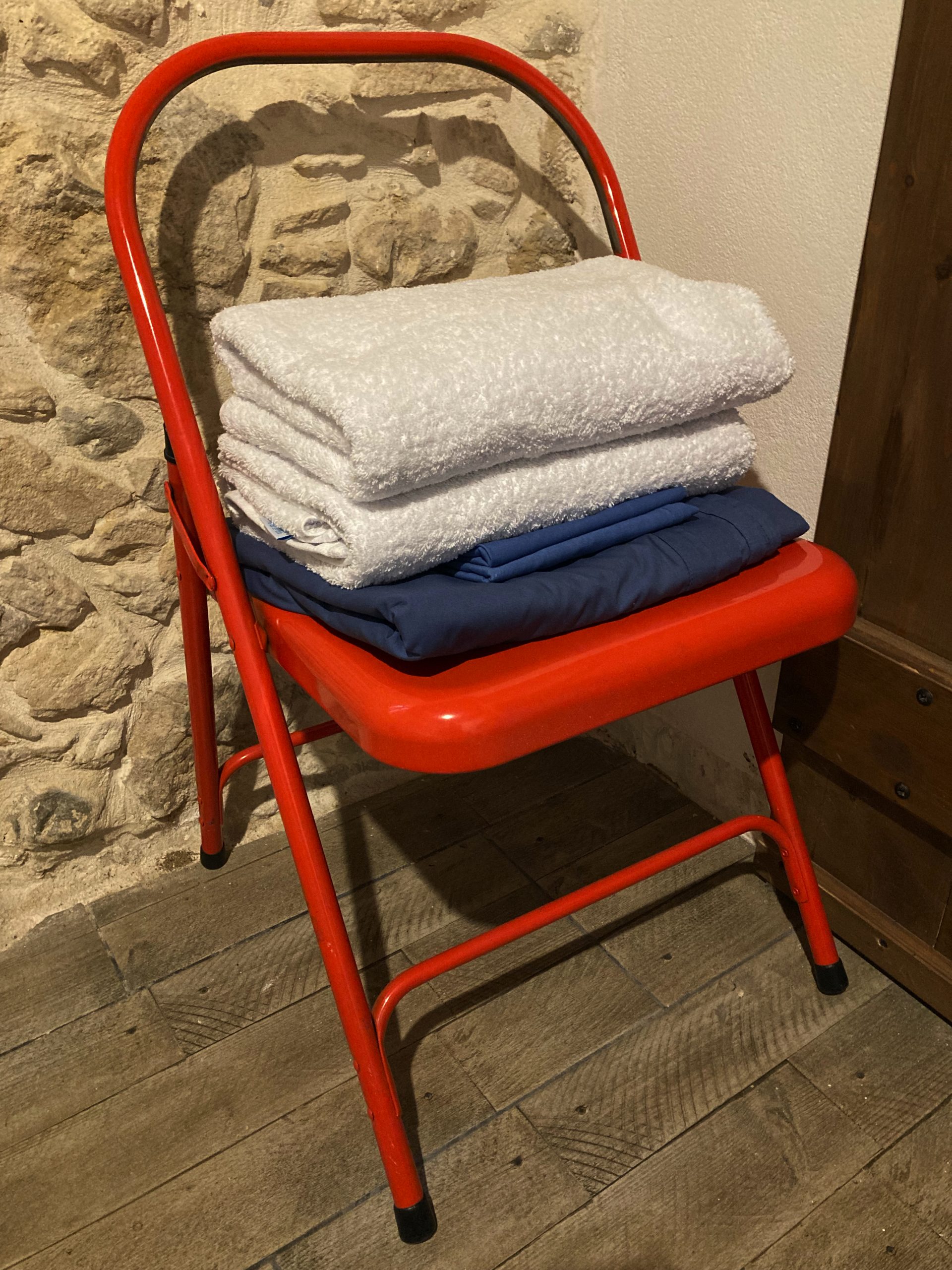 It's the first time I have done any ironing in hmmm maybe a decade! This morning we still had damp linen from yesterday's was hanging outdoors. Rain, yes rain, promised for this morning and the sheets and towels still damp. Remembering what our friend Shehina said, when I caught her ironing her sheets, I got out the ironing board and set to. Yes, it works! Slightly damp sheets and towels CAN be turned into a pile of lovely stuff, all neatly folded. Amazing!
In a process that we used to call 'surfing the net', now sadly transformed into 'Googling' I checked out whether Greece still has a textile industry. The answer does seem to be that it does, but I am struggling to find out whether the sheets and towels I bought yesterday were actually Greek cotton.
Remember those blue and white striped bedsheets we all loved? We used to use them as bedspreads and throws. I'm sure they are still around but haven't seen them for a long time.
Kythira
You might wonder why people living on a Greek island might want to go on holiday to another Greek island. I think the answer has to do with the different characters of the islands. Kythira lies between the Peloponnese and Crete – around 3.5 hours by ferry (the Aqua Jewel, for those of you who like marine movements apps). It's directly South of Elafonisos island, and to the East is Cape Maleas. This is the turning point for ships coming from the West and turning NE for Piraeus. Al and I made yacht delivery trips from the Canary Isles to Greece back in 1987. We were on different yachts, and arrived at the Cape days apart, but we both had the same experience – big winds on the nose, preventing the yachts from rounding the Cape. The engine on 33 foot Liokri just couldn't get us any way forward at all so we turned tail to Nafplion. Where we were 'arrested' and held there for a couple of days by the Port Police, who sent us on to Gythion to pay a 30 pound fine – or its drachma equivalent. I digress.
Kythera is much more like your Greek island of the holiday brochures than Crete is, with 'Cycladic' architecture – based on the white cube with blue paintwork – classic postcard material. The snorkelling was good, with clear blue water and the usual sorts of fish to meet. Very quiet and out of season, with few tavernas open. Waterfall was dry, Potamos busy on a Sunday morning with locals drinking coffee and a tiny market. We stayed in Avlemonas – a small but nice apartment near the sea, next to the mini market and the restaurant. Fortunately we weren't in search of a warm welcome or a gastro experience from the latter, and managed to feed ourselves breakfast and a map of the island rom the former. Our host told us that the island is mayhem in August with everyone searching for a meal in the evenings and a swim spot during the day.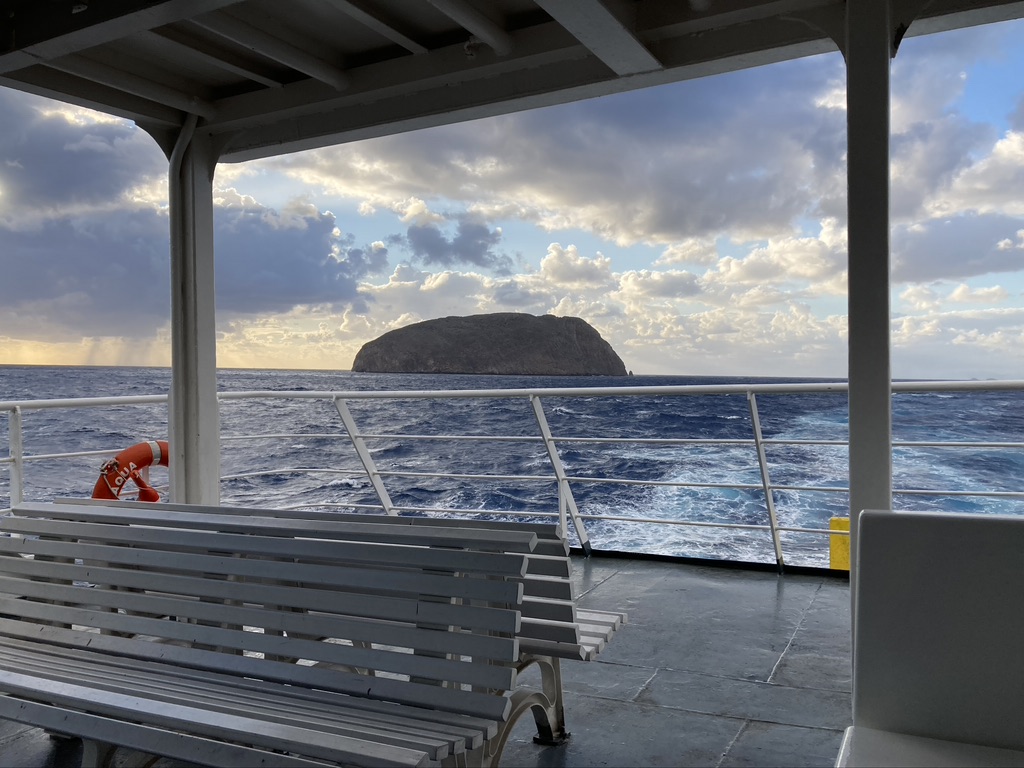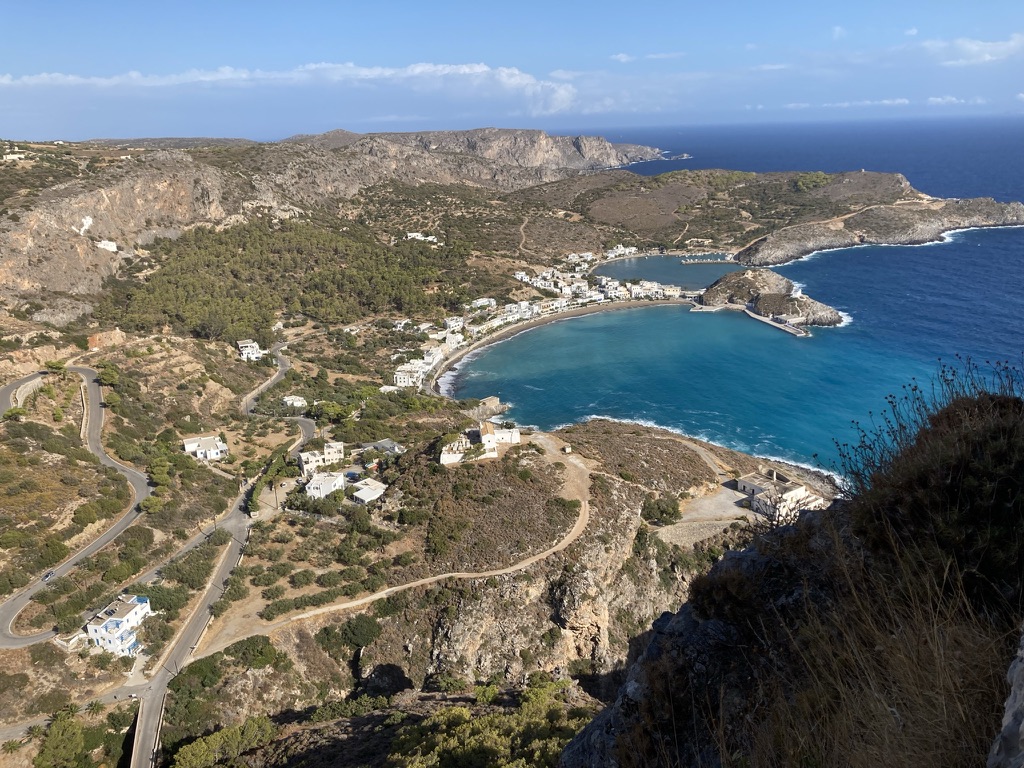 On the ferry,
Looking down from Chora (Kythira town) to Kapsali.
Why Blog?
Do you believe in Synchronicity? After I wrote the title of this section, I flitted over to email and found a prompt from one of my blogpsreading friends, telling me that it might be time for another one! The reasons I do this are as follows:
it keeps me writing and thinking about writing
it keen me in touch with all of you – whatever orbit we occupy in each other's friendship universe
I enjoy it; there's a sense of quietness that comes with writing; right now I am writing in a very quiet state, following Stephanie Quirk's 'Lying down' yoga session. Her teaching is deceptively simple and very effective. Stephanie studied in Pune with the Iyengar family for many years and has settled now in Australia. She teaches at, or in the case of Zoom, through, the Marrickville Yoga Centre in a district of Sydney, I think. My Australian geography is pretty vague. Marrickville has been a real anchor for me, despite being on the other side of the world. Their Zoom classes are excellent, and there is a positive atmosphere in the classes that really calms and focuses, without any of the noisy cajoling that can sometimes happen in classes. Yes, I have done this myself, and sometimes it is exactly what's needed, but not always, and maybe not for these times when we seem to need to be gentle, rational and kind.
Before I leave yoga altogether, let me share this image with you. As Stephanie encouraged us to connect with space, and with gravity (to many of you this will sound like hippy dippy stuff, but trust me), I let my perception go down – to the floor I was sitting on, actually tile and concrete, then through the concrete structure of the house into the basement and down into the ground that the house stands on. But something compelled me to go further until I reached the centre of the earth, presumably the point towards which all free weights fall, and to which our own bodily 'centre of gravity' is attracted. We have got so used to our feet down, head up position that we might forget that gravity even exists, until maybe we stumble and get a painful reminder. But, here's the thing: gravity is really 'spooky action at a distance'. The foot that is off the ground is as much subject to gravity as the one that's on the ground. You don't have to be an astrologer to believe that the positions of the objects in the solar system influence the earth – just look at the tides, the phases of the moon, the sun rising and setting, I'm sure you get what I mean. Now think about each of those humans, animals, trees, plants, each of them with that special connection with the earth's centre of gravity, like an invisible thread leading to the core. It's an image I wish I could implant into all the COP26 attendees.
For any of you curious about Marrickville – they are really in control of their Zoom technology and deliver many classes online, some of which are made available in a content library. There's an online Beginner's Course – great place to begin a yoga adventure.
https://www.marrickvilleyoga.com.au/myc-online-beginners-membership/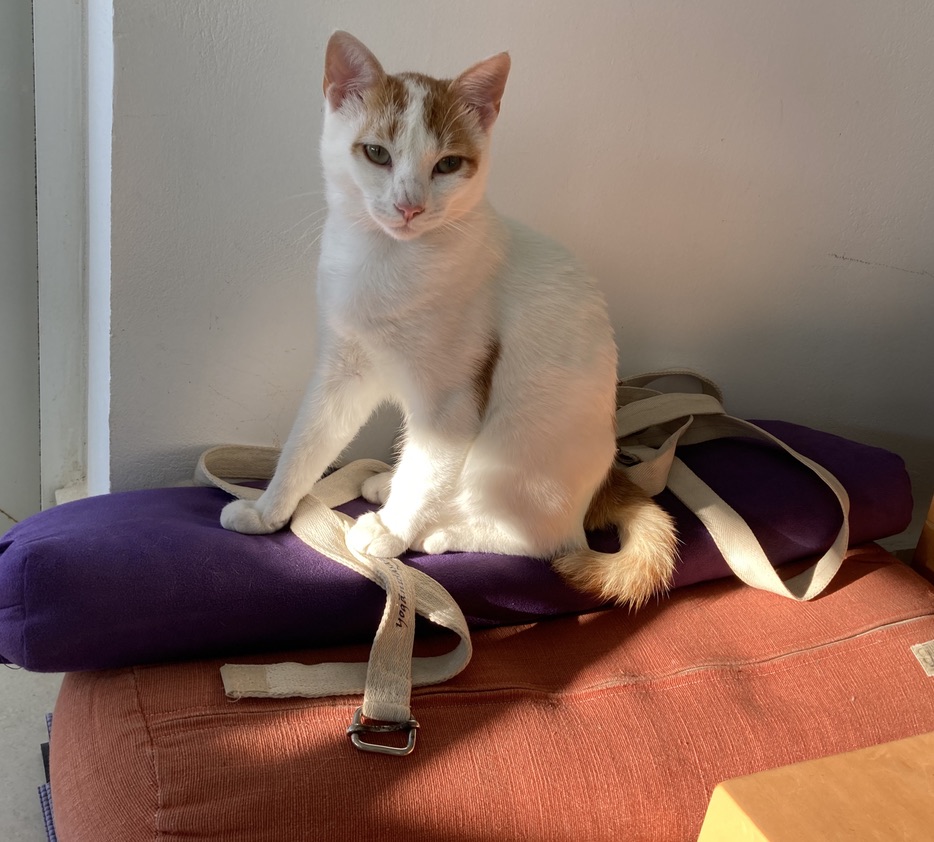 My yoga helper!
What about your house?
As some of you know, we are hoping to buy land and build a house here. Here being Crete, and more specifically Western Crete, near the town of Kissamos. This has not been an easy ride in any respect, but finally the lawyer, the public notary and the engineer seem to have brought the seller to the table, all paperwork complete and signed. So now we have a Pre-contract to buy the land, which ensures that the seller can't change his mind, and a building permit will be applied for. This permit is not for the final house, it merely ensures that if it is granted, the land is 'buildable', and we can move on to the actual purchase which will enable us to submit the actual plans for an actual house. Just as a reminder, here's the plot: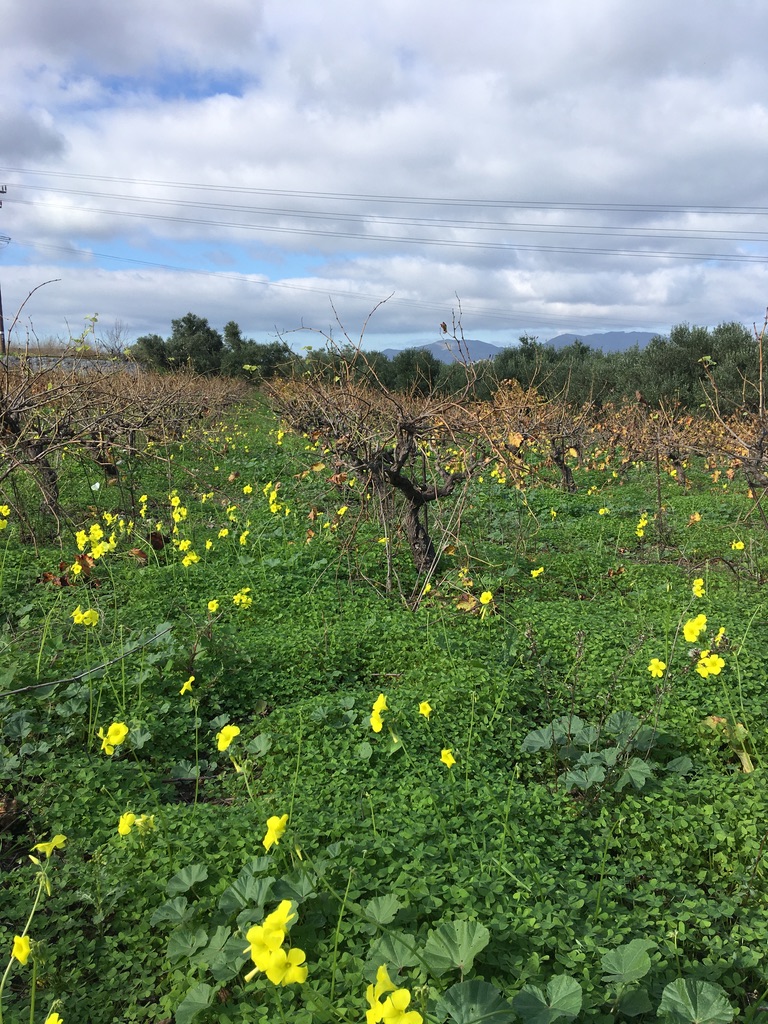 You may be able to click here for the location.
Of course, there's a lot of ugly detail to this story, but no point in dwelling on the might have's or should have's. The point is that we are where we are now!
Maybe we could have felt a little more celebratory if it hadn't been such a long haul.
Oh, and I haven't mentioned where we are now! We are living temporarily in our 3rd house in Marediana. This one just a couple of houses away from where we started out. Great views, but the house is quite hard to photograph, standing as it does overlooking an olive grove, and a lot of sea! We can even view the ferry again. Here's a shot of our house from Max's.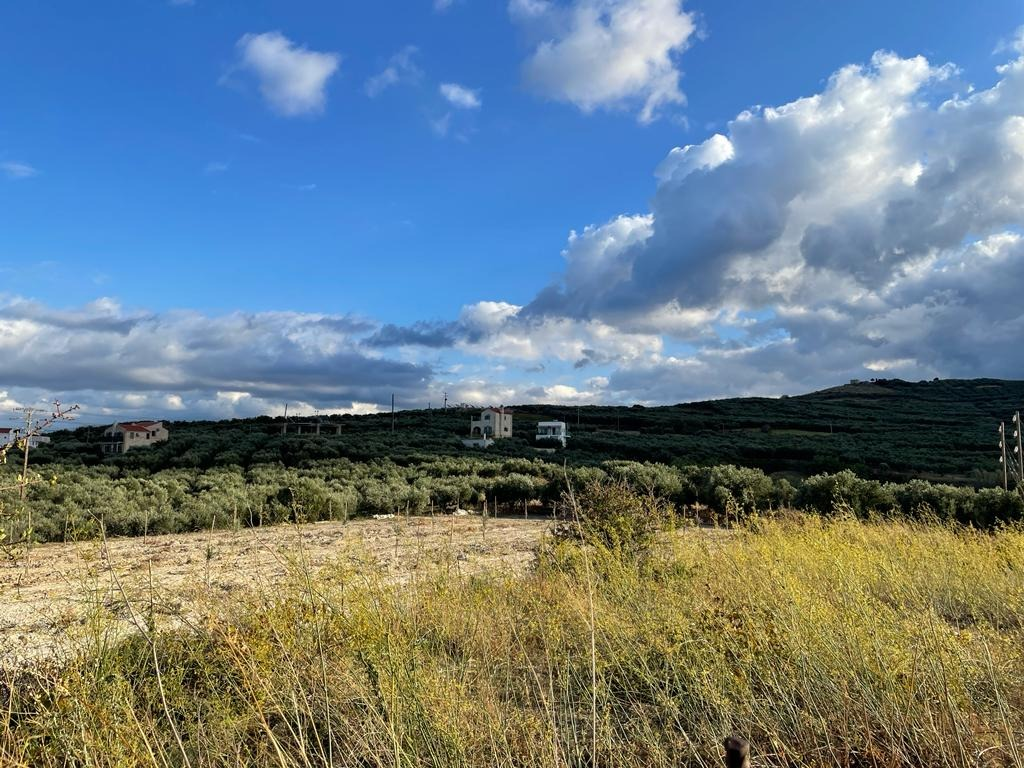 White cube with Papapaschali stone house next door. And here's the view from our house over to Max's this morning.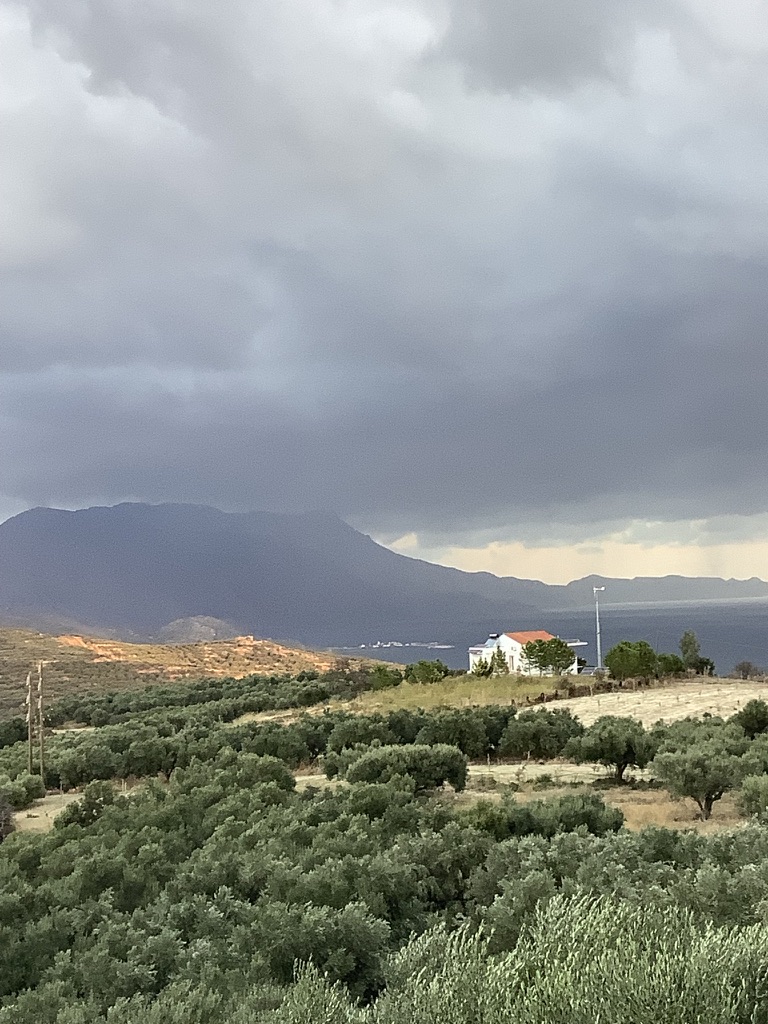 Kythera again
Speaking of the ferry, and back to the beginning – the ferry leaves Kissamos, calls into AntiKythera a couple of hours later – or not – it's a kind of request stop before stopping at Kythera and going on to the Peloponnese . I'm a bit disinclined to go into a travelogue. Enough to say that having watched the ferry go out for the best part of 2 years, we thought it was time to go with it. Also a complete break from the logistics of houses, cars and cats. Maybe more soon when I get hold of Al's many photos.
I think I will make a French Onion soup for lunch. Some rough red wine from Kythera needs using up. Nigel Slater's recipe, minus a couple of ingredients; no beef, of course, and only have red wine. And no way I am waiting around to put the soup in the oven. Will serve with toast and grated cheese.
https://www.theguardian.com/lifeandstyle/2010/feb/21/french-onion-soup-recipe-slater
As I said, this is a way of keeping in touch, so please don't hold back on comments, emails etc. Sorry, no music this time, just the sound of the South wind.